Moscow murders: Two Russian nationalists jailed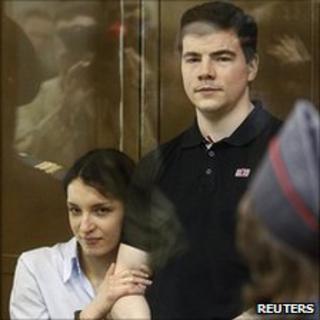 A court in Moscow has sentenced a Russian nationalist to life imprisonment for murdering a prominent human rights lawyer and a journalist.
Nikita Tikhonov, 31, was found guilty of shooting lawyer Stanislav Markelov and Anastasia Baburova, a reporter, in the capital in January 2009.
Tikhonov's girlfriend, Yevgenia Khasis, 26, was jailed for 18 years for helping him kill them.
Mr Markelov's human rights work had angered nationalists.
He had defended Chechens who were victims of alleged human rights abuses.
Ms Baburova worked on the opposition Novaya Gazeta newspaper, which specialises in human rights issues.
International concern
The murder, carried out in broad daylight in central Moscow, sparked international accusations that Russia was not doing enough to arrest the killers of government critics.
When Tikhonov and Khasis were arrested in November 2009, Russian police sources linked them to an outlawed far-right group, Russian National Unity.
Russian National Unity denied any involvement in the murders and said the two had never been members.
Both defendants also denied the charges and their lawyers say they will appeal, if necessary to the European Court of Human Rights.
Investigators said Tikhonov had shot Ms Baburova, 25, because she was a witness to the murder of Mr Markelov, 34.
The court also ruled that Tikhonov should pay 2m roubles (£44,467; $73,300) in compensation to the victims' relatives.
In his initial testimony Tikhonov admitted the killings, but later retracted his story, accusing investigators of having pressurised him. He eventually only admitted a charge of weapons trading.
Ms Baburova's mother, Larisa, said she and her husband were satisfied with the verdict.
"We think their guilt is totally proven - by the witnesses' testimony and the testimony of the accused themselves," she told reporters.
A spokeswoman for Novaya Gazeta, Nadezhda Prusenkova, called the investigators' work "brilliant", the AFP news agency reported.
A star reporter for Novaya Gazeta, Anna Politkovskaya, was shot dead in 2006 - a killing that caused an international outcry. She had reported extensively on human rights abuses by Russian forces in Chechnya.