Lithuania jails Soviet commando for Medininkai shooting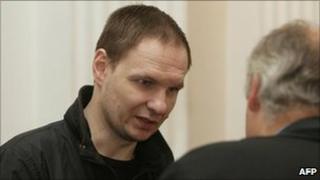 A Lithuanian court has jailed a former Soviet commando for life for his part in the killing of seven border guards just after independence in 1991.
Konstantin Mikhailov, an ex-member of the Omon paramilitary police, was arrested in neighbouring Latvia, where he had obtained citizenship.
He denied any part in the killings, known as the Medininkai massacre.
Three other Omon members wanted by Lithuania over the killings are believed to be living in Russia.
The former Soviet republic has accused Russia of shielding them from justice.
Border dispute
"Konstantin Mikhailov committed a serious crime, and thus has been sentenced to life in prison," the judge, Viktoras Dovydaitis, told the court in the capital Vilnius.
Mikhailov, who has 20 days to lodge an appeal against his sentence, showed no emotion as the sentence was read out, an AFP correspondent reports.
Clean-shaven and wearing jeans and a white shirt, the former policeman simply looked towards the public gallery.
Earlier, he told the court he believed the attack on the Medininkai border crossing with Belarus had been carried out by Omon based in Vilnius.
As a member of the Omon in the Latvian capital Riga, he had not been involved, he said.
The Medininkai crossing was shot up with automatic weapons on 31 July 1991.
Six guards were killed on the spot and a seventh, a customs officer, was mortally wounded.
At the time, Lithuania was seeking to erect border controls to underpin its self-declared independence from the USSR.
With the country's independence not yet recognised internationally, the legitimacy of the border was disputed, and Soviet security forces remained active in the Baltic states.
The Medininkai shooting was one of the bloodiest incidents in Moscow's failed efforts to stop Lithuania breaking away.
A few months after it occurred, the USSR formally recognised the country's independence.