Nurse at Donegal hospital unit was unregistered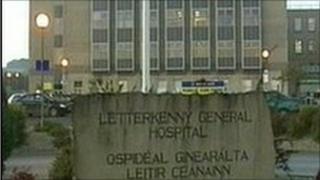 An investigation has started after it emerged an unregistered nurse was working at the Sexual Assault Treatment Unit at Donegal's Letterkenny General Hospital.
The nurse was not registered with the Nursing Board in the Irish Republic.
The Health Service Executive (HSE) has contacted 25 people who were examined at the unit.
It was aware that the nurse was not registered and has launched an investigation.
Nurses in the Republic are required to be registered with the nursing board, An Bord Altranais to practice.
However, the nurse in question was removed from the register in 2009 for non-payment of fees.
The HSE said it was notified at the time and that the information was made available within the organisation but that it did not filter down to the Sexual Assault Treatment Unit at the hospital.
It became aware of the issue in the last few weeks following a review at the unit and said the nurse was no longer on duty.
A total of 25 people who were examined at the unit in the last 18 months were contacted on Wednesday by Irish police and the HSE.
The Rape Crisis Network of Ireland said it was told that forensic evidence gathered may not be admissible in court.
Gardai said the matter had been brought to the attention of the Director of Public Prosecutions.
The HSE said it had appointed two independent experts to carry out a review to establish how a staff member could continue to practice without being registered.