Finnish parties agree to support bail-out for Portugal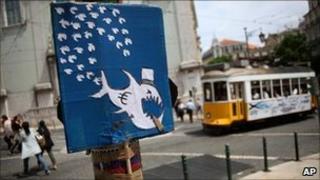 Political rivals in Finland have agreed to back the proposed EU bail-out for Portugal, side-stepping opposition from a powerful nationalist party.
The probable next prime minister, Jyrki Katainen of the conservative NCP, said he had gained the support of the Social Democrats and others on the package.
The deal removes a major hurdle to the 78bn euro ($116bn; £70bn) bail-out.
Unlike other eurozone countries, Finland's parliament retains the right to vote on bail-out packages.
In response to the deal, the leader of the nationalist True Finns party, Timo Soini, said it was pulling out of coalition talks.
Following its shock gains in last month's general election, when it became the third-biggest party with 19% of the vote, the True Finns had been widely expected to join a new coalition.
EU finance ministers are due to meet next Monday in Brussels to discuss the Portuguese bail-out as well as Greece and the Irish Republic.
'Tightening of terms'
Mr Katainen said the agreement with the Social Democrats included conditions that called for Portugal to sell off assets in order to repay loans from EU countries and to begin talks with creditors over support mechanisms.
"The Finnish stand on the Portugal aid package makes it very clear that Portugal should be required to begin talks with individual investors that they keep their investments in Portugal and don't pull out," said the leader of the NCP (National Coalition Party).
"It's a bit of a tightening of terms."
He added that Finland would call for guarantees for loans from any other eurozone country that might require bail-outs in the future, stress tests for European banks and a tax on banks to collect funds for possible future financial crises.
"This has been an exciting moment for Finns and other Europeans," he told reporters.
"A tight knot has been opened... and we have managed to unravel it with good co-operation and will."
Timo Soini, whose party campaigned on a euro-sceptic platform, said: "We will not take part in the government negotiations, with their stance.
"The views are so different, they aren't compatible."
It was not immediately clear how the mainstream parties planned to form the next government, whether in a broad coalition or as a minority administration.