EU to launch new register of Brussels lobbyists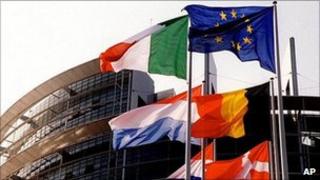 EU lawmakers plan to launch a new register of lobbyists online next month in a move to improve transparency in the 27-nation bloc.
Euro MPs approved a joint "transparency register" with the European Commission.
Registration will be voluntary, as under the current system. But lobbyists will not get a European Parliament access badge unless they register.
In March a "cash-for-laws" scandal fuelled concern about lobbyists' influence in the parliament.
Undercover reporters from the UK's Sunday Times newspaper posed as lobbyists and the paper reported that four MEPs were willing to accept cash from them in exchange for amending legislation.
The MEPs denied wrongdoing but the parliament is investigating their activities.
The anti-corruption organisation Transparency International says about 3,000 lobbying groups have offices in Brussels.
Under the new agreement, the parliament's lead negotiators will have to name all the lobbyists they met while drafting legislative reports, which feed into EU laws.
The EU Council - the grouping of member states' governments - will not be listing its lobbyists on the joint register, though it is expected to do so at a future date.
Currently both the Commission and parliament have their own registers of lobbyists, though critics say there are numerous gaps and that some entries are out-of-date.
"The Transparency Register is an important step forward in our fight for clean and accountable decision-making in the European Union," said the parliament's president, Jerzy Buzek.
"We need advocacy and lobby groups for knowing what impact our legislation might have on different groups of people and companies, but we must make sure that nobody influences decisions through illicit means."