Kercher killer Amanda Knox tried for slandering police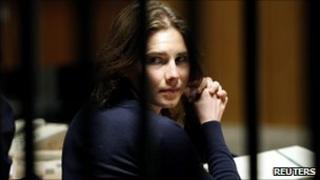 Amanda Knox, the US student convicted of murdering her British housemate in Italy, faces a fresh trial, charged with slandering police officers.
The claims stem from the inquiries into the death of Meredith Kercher in 2007.
At her murder trial, Knox, 23, claimed police hit her on the head during her interrogation. The police denied this.
Knox, who is currently appealing against her murder conviction, told an earlier hearing she never intended slander and was just defending herself.
If the American - who was due to appear in court on Tuesday - is found guilty, any additional jail term would be added to her existing 26-year sentence.
Parents on trial
Raffaele Sollecito, Knox's former boyfriend, is also appealing against his conviction for Miss Kercher's murder.
Both Sollecito and Knox are awaiting the outcome of an independent examination of the forensic evidence in the case, which they say will prove their innocence.
Knox's parents are also due to stand trial separately in July for claiming their daughter was abused by police during the murder investigation.
Curt Knox and Edda Mellas made their claims in an interview with the British newspaper, the Sunday Times.
Meredith Kercher, who was 21 and came from Surrey, died in November 2007 in the house she shared with Knox in the Umbrian town of Perugia.
Prosecutors said Miss Kercher died during a sex game which went wrong. Her semi-naked body was found partially covered by a duvet in her bedroom.