Amanda Knox experts given more time for DNA tests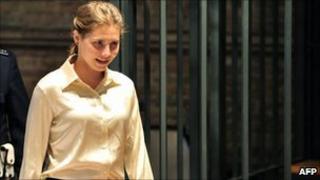 Experts who are reviewing the DNA evidence in the appeal of Amanda Knox have been granted a time extension.
The US student, 23, was convicted last year of murdering her British housemate Meredith Kercher in Italy in 2007.
Knox is appealing against her murder conviction as is Raffaele Sollecito, her former boyfriend, who was also convicted over Miss Kercher's murder.
The court also said it would allow new witnesses sought by the defence to testify at the appeal.
This could include five serving inmates who have made written statements claiming to have information on the Knox case.
Both Sollecito and Knox are awaiting the outcome of an independent examination of the forensic evidence in the case, which they say will prove their innocence.
Knox's lawyer said the experts had been asked to verify the presence of DNA on two items - on the presumed murder weapon and a bra clip found at the scene - which were presented as evidence in the earlier murder trial.
If this proved impossible, they said, the experts should ascertain whether the original tests had been carried out correctly by Italy's forensic police.
At Saturday's hearing the forensic specialists asked for an extra 40 days to examine other evidence and were granted an extension until 30 June.
During her latest hearing, Knox told the court of her frustration at being imprisoned.
"I've spent more than three and a half years in prison as an innocent person, and this for me is very frustrating and mentally exhausting," she said.
"But nothing is more important that finding the truth after prejudices and many mistakes. I don't want to spend my whole life in prison as an innocent."
Speaking after the hearing, her father Curt Knox said his daughter was disappointed at the delay in her appeal but would "make it through, knowing she is innocent".
Parents face trial
Amanda Knox has also been charged with slandering police officers.
The claims stem from the inquiries into the death of Miss Kercher. Knox claimed during her murder trial that police hit her on the head during her interrogation. The officers denied this.
If the American is found guilty in the slander trial, any additional jail term would be added to her existing 26-year sentence.
Knox's parents are also due to stand trial separately in July for claiming their daughter was abused by police during the murder investigation.
Mr Knox and Edda Mellas made their claims in an interview with the British newspaper, the Sunday Times.
Meredith Kercher, who was 21 and came from Coulsdon, Surrey, died in November 2007 in the house she shared with Knox in the Umbrian town of Perugia.
Prosecutors said Miss Kercher died during a sex game which went wrong. Her semi-naked body was found partially covered by a duvet in her bedroom.