Georgia: Anti-Saakashvili protesters vow to continue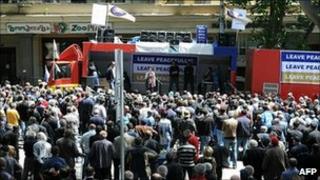 Anti-government protesters in Georgia are staging a third day of demonstrations calling for President Mikhail Saakashvili to step down.
Several hundred activists were gathered in a square in the centre of the capital, Tbilisi, on Monday.
On Saturday up to 10,000 people took part, accusing the president of failing to tackle poverty and authoritarianism.
The peaceful demo turned violent early on Sunday morning, when clashes broke out between police and demonstrators.
Following the arrest of one of the protest movement's leaders, young men smashed a police car, injuring the occupants. Police responded with tear gas and rubber bullets.
Struggling to cope
Scores of protesters have been sleeping overnight at the site of the demo, outside the Georgian public television studios in the capital.
"The government has put Georgian people in an unbearable situation. People here are crying because they don't have enough bread to eat," said one older woman.
The movement has been dubbed the "silver revolution" by some, as many participants are older Georgians, struggling to cope with low pensions and rising food prices. Some say life was better in the Soviet Union.
But many of the protesters are men wearing scarves or masks to hide their faces, and carrying white sticks.
"If someone attacks us, we have the right to defend ourselves," said opposition leader Nino Burjanadze, when asked why the demonstrators were arming themselves with sticks.
She accused the government of confiscating their banners and arresting protesters before they could get to the demonstrations.
But interior ministry spokesman Shota Utiashvili said the government respected the right of people to demonstrate.
"The police will only step in, in case violence breaks out," he said, adding that the turnout so far was much lower than the 100,000 demonstrators predicted by the opposition.
'Day of rage'
So far police officers have largely stayed out of sight, clearly keen to avoid clashes.
In 2007, about 500 people were injured when police reacted heavy-handedly during a protest. The incident undermined the government's credibility and the authorities are keen to avoid the same thing happening again.
Rates of poverty may be high. But many Georgians do not trust the opposition, seen as divided and lacking credibility, and the president remains relatively popular.
Most people do not want a return to the crime and corruption which plagued the country before Mr Saakashvili came to power in 2003. So previous anti-government demonstrations have fizzled out.
Opposition leaders, though, say this time is different. They have called for a "day of rage" on Wednesday.
And further protests are expected on Thursday, when the government will stage the anniversary celebrations of Georgian independence.