Euro MPs rebuff UK call for budget freeze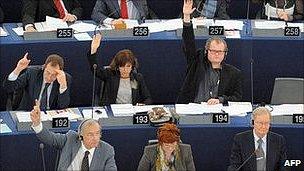 Euro MPs have called for an increase of at least 5% in the EU's next long-term budget, rebuffing the UK government's demand for a budget freeze.
A report backed by the main groups in the European Parliament also recommended scrapping the current budget rebates and exceptions.
The UK gets an annual rebate of about 3bn euros (£2.6bn).
The UK and some other EU governments want the 2014-2020 budget capped at the EU inflation rate, currently 3.2%.
The report on the seven-year budget, known as the Multi-annual Financial Framework (MFF), was adopted by the parliament's Policy Challenges Committee. It is expected to be backed by the full parliament in a vote on 9 June.
The MFF cannot be adopted by the 27 EU member states without the parliament's support.
The European Commission will present its recommendations on the MFF on 29 June. It has already indicated that its position is similar to the parliamentary committee's.
The leading UK Conservative on the committee, Richard Ashworth, deplored Wednesday's vote, saying "once again the European Parliament is making unreasonable demands on taxpayers".
He was among five MEPs who voted against it, while 39 were in favour and four abstained.
"People suffering from cuts at home cannot accept their governments sending more money to the EU," he said.
After bitter negotiations the EU's 2011 budget increase was capped at 2.91%.
In December UK Prime Minister David Cameron was supported by the leaders of Finland, France, Germany and the Netherlands in calling for the EU budget be frozen until 2020, with any increases capped at the inflation rate.
In another controversial move, the MEPs said the long-term budget should be revised to get rid of the complex system of rebates, exceptions and corrections.
The current system reflects the different national governments' contributions - some are net beneficiaries from the EU budget, while others like Germany and the UK are net contributors.
The MEPs' report, drafted by Spanish centre-right politician Salvador Garriga, says that "freezing the EU budget, as demanded by some member states, should not be considered a viable option as it would be detrimental for the achievement of the Union's agreed objectives".
The report recommends shifting the budget away from the system of national contributions. Instead, it says the MFF should be funded from "own resources" - direct EU levies such as a carbon tax or aviation tax.
Many governments are wary of the "own resources" idea, fearing it could give too much independence to EU institutions.
The MEPs' report says the EU's Lisbon Treaty points out that "without prejudice to other revenue, the budget shall be financed wholly from own resources".
The current dependence on national contributions "places disproportionate emphasis on net-balances between member states, thus diluting the European common interest", the MEPs' report says.
Related Internet Links
The BBC is not responsible for the content of external sites.