Bomb injures seven in busy Istanbul shopping area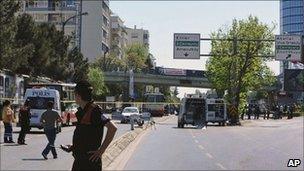 A bomb blast in the Turkish city of Istanbul has injured seven people in one of its busiest shopping districts, officials say.
None of those hurt are believed to have serious injuries and they are said to include a police officer.
There were no immediate reports of any militant group saying it had carried out the bombing.
The attack comes less than three weeks before a general election which the ruling party is expected to win.
Security forces have been on the alert in recent weeks for attacks by Kurdish separatist militants, while Islamist and leftist militants have also been active in Turkey in recent years.
Police confirmed the explosion was caused by a bomb, which they said was mid-sized, and attached to a bicycle in the Etiler district of the city.
As emergency services worked at the scene, police checked the area for possible additional explosive devices.
Tuncay Ozdemircan, who lives near the site of the explosion, described the blast for Reuters news agency:
"I suddenly heard a loud blast, the windows were shaking.
"It sounded more like a bomb than a gunshot. When I looked from the window I saw yellow smoke billowing into the sky. I thought to myself, it's a bomb explosion."
Another witness, Berna Ozdemir, told Turkish broadcaster NTV the blast had not damaged buildings in the area.
"Even the windows remain intact," she said.
On 12 June, Turkey elects a new parliament which is expected to return Prime Minister Tayyip Erdogan's Islamist-rooted AK Party to power, according to opinion polls.