How fugitive Ratko Mladic was caught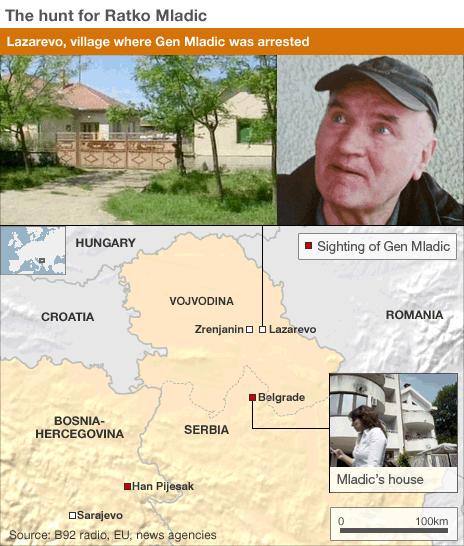 Living in a small village in northern Serbia, one of the world's most wanted men - Ratko Mladic - put up no resistance when he was finally arrested after years in hiding.
It was a quiet end to the 16-year hunt for the man many hold responsible for the worst single atrocity in Europe since World War II.
The drama unfolded early on Thursday in the village of Lazarevo, about 80km (50 miles) north of Belgrade, where a relative of Gen Mladic owned a house built of yellow brick.
Serbian officials have described how the alleged mass murderer was heading to the garden to take a stroll before dawn when the police moved in.
More than 20 officers from specialist teams took part in the raid, wearing masks and black clothing, the Associated Press news agency quoted the officials as saying.
Three other houses in the village were raided at the same time. The officials insist they had no specific intelligence that Gen Mladic was in the village, saying the raid was part of a rolling programme of searches which have been going on for years throughout Serbia.
Other reports have suggested that the house had been under surveillance for the past two weeks.
Gen Mladic is said to have confirmed his identity immediately after his arrest, and despite being armed with pistols, handed them over without a fight.
"Mladic had two loaded guns he did not use. He was co-operative and did not resist arrest," government minister Rasim Ljajic said. "He spoke calmly with officers."
The 69-year-old "looked pale as if he had stayed indoors for a long period of time", he added.
Said to be in poor health and taking a lot of medication, the fugitive general appeared to have a paralysed arm - possibly the result of a stroke, Belgrade's B92 radio said.
The Bosnian Serb army chief now faces including an accusation of genocide over the massacre of at least 7,500 Bosnian Muslim men and boys at Srebrenica in 1995.
Villagers in Lazarevo, mostly Serbs from Bosnia or Croatia, said they had no idea the notorious general was living among them.
Some Serbian news reports claimed he had been using the assumed name Milorad Komadic - an allegation denied by the Serbian Interior Ministry.
Gen Mladic evaded capture for 16 years.
After the end of the Bosnian war, he returned to Belgrade, enjoying the support and protection of former Yugoslav President Slobodan Milosevic.
He lived openly in the city - visiting public places, eating in expensive restaurants and even attending football matches - until Mr Milosevic's arrest in 2001.
Some reports say he then took refuge in his wartime bunker in Han Pijesak, not far from Sarajevo; others claimed he was in Montenegro. Yet others claimed he remained in or around Belgrade.
Instead, it appears he was was living at least some of that time surrounded by family in a quiet village in the north of Serbia.