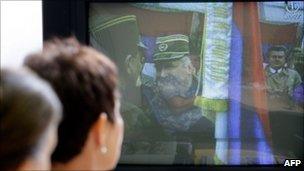 BELGRADE Ratko Mladic, in hiding, was a reminder to Europeans that without eternal vigilance evil can prevail.
Sixty years before he oversaw the horrors in the Balkans, massacres on the European continent were supposed to have been confined to the past. In 1995, in Srebrenica, Gen Mladic brought back mass killing to Europe.
Eight thousand men and boys were slaughtered in Srebrenica. Women were raped. Others took their own lives to avoid having their throats cut. For days the town was ethnically cleansed. Prosecutors described what happened as "scenes from hell, written on the darkest pages of human history".
It was a moment of shame for the international community. They had forces nearby which did not intervene. The town was supposed to be a safe haven guarded by Dutch UN peacekeepers. Europe was slow to react when war came to the Balkans, its own backyard.
Mladic, the Bosnian Serb commander, believed in an ancient Serb homeland. To achieve it Croats and Muslims had to be driven out.
So he laid siege to Sarajevo for three and a half years and 10,000 people died. He was intercepted telling his forces to "shell them until they're on the edge of madness".
Later he was indicted as a war criminal. Despite an intense manhunt he survived. For a period he lived almost openly. He came to Belgrade to watch soccer matches and to dine out at a well-known restaurant. There were those who continued to admire him as a patriot, a Serb nationalist. Even when Serbian intelligence arrested him, he was staying at a relative's home in a Serbian village about 60 miles north-east of Belgrade.
There will still be some today who regard him as a hero, but the nationalist cause has lost its appeal. The dream of a Greater Serbia has faded. Many now yearn to join mainstream Europe. One of the triumphs of the EU has been as a beacon for countries to throw off the horrors of their past. Serbian President Boris Tadic said today: "We have ended a difficult period of our history and removed the stain from the face of Serbia."
The arrest of Mladic and subsequent trial at The Hague offer the hope of some justice for those who lived through the terrors of the Balkan wars.
The West insisted that Serbia could not join the EU without delivering up Europe's most wanted war criminal.
In the days ahead it will be asked, how was this man able to survive for 16 years? Who protected him? Who in the military and the intelligence services looked out for him? They too are answers that the rest of Europe needs to know.