Mladic's capture: Your stories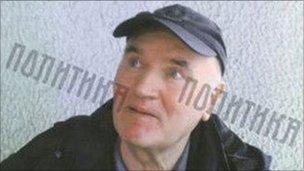 The former Bosnian Serb general, Ratko Mladic, is due back in court in Belgrade, as judges deliberate whether he should be sent to the Hague to face genocide charges at the war crimes tribunal.
The hearing began on Thursday when he was arrested after evading capture for 16 years.
Readers of the BBC News website from the region have been sharing their stories.
Zeljka Dabic, now living in Brussels
I left Bosnia when I was eight-years-old. My village was burnt down and my cousin and uncle were killed in the conflict. I grew up overnight.
My family moved to Belgrade in Serbia and my parents protected me from the truths of war. It was like the Italian film, Life is Beautiful, where the Jewish parents of a child protect him from the horrors of World War Two.
The hardest thing for me at the time was going to a new school.
Three years ago I went to visit my home village in Bosnia. It was shocking, there was nothing there, only grass.
There are mines in the area, so the cemetery where my cousin and uncle are buried is inaccessible.
I tried to follow in the footsteps of cows and sheep in the field to avoid the mines, but I couldn't get all the way to their graves.
This is a big moment for my country, for all the people who were victims of this man, whatever their nationality.
It's especially important for my family in Belgrade, for my parents who lost everything because of this man and his counterparts.
Ordinary people have suffered so much and Serbians are tired of this story. We want closure. I'm 28 and for most of my life I couldn't leave without a visa. People in the West take freedom for granted, but we couldn't move easily.
I now live in Belgium and my home is here and in Serbia, where my parents are. I hope there is now a bright future for the youth in Serbia who lived in Mladic's shadow for so many years.
Milica Milivojevic, Belgrade, Serbia
The move to capture Mladic is entirely politically motivated. The government is simply trying to appeal to the EU.
I am not surprised. The government is really struggling here, and this comes at a good time for them.
It also looks staged - I don't think he was really captured in that village. This is a small country and it would have been hard for him to hide for that long.
This is a political move by the government, nothing more.
Toby Philpott, Belgrade, Serbia
This will certainly be a massive boost to the efforts that the Serbian government has made to prepare itself for EU accession.
This has been a shadow hanging over the work of all of us involved in this process.
I've been working in the region since 1998 and my brother served here during the war, so it is an issue that is dear to my heart. It's very important news for both my work and my family.
Rightly or wrongly there have been suspicions that the government wasn't doing enough to capture Mladic and it was a stumbling block on their path to joining the EU.
This will allow them to move towards that goal.
There will be consequences, undoubtedly. The right wing minority will react and there will be trouble.
But the young progressives that I have met want an EU future and will see this as a massive step forward as they can now say "we've done our bit".
Finally, justice will be satisfied. Serbia has lost many years because of this man. Today I'm proud to be a Serb! Marko Lazovic-Djurdjevic, Kragujevac, Serbia
I think it is a big relief for those who have felt threatened and lost friends, family or relatives. Many had insulted Mladic for his escape but that should now cease since he has been caught. Racism has overgrown in Serbia since the war between Bosnia and Serbia. And it is still going on today. Despite the horrendous inconvenience that Ratko Mladic did to Muslim Bosnians, I do think Serbia should be allowed to join the EU. Hakim Diaconescu, Belgrade, Serbia
I am from a mixed Yugoslav background and I am proudly half-Serb. But today I can say that I am overjoyed. Anyone who killed innocent civilians, whether they are Serb, Croat or Bosniak in the civil war ought to be brought to justice in the Hague. This will hopefully pave the way for reconciliation, which is the only way to solve these problems. We all speak the same language and we all have the same genetic makeup; only religion differentiates us. I hope that people remember now what connects us rather then what separates us. Vuk Popovic, London, UK
I approve of war criminals' prosecution, but I don't see The Hague as an independent and righteous court. A lot of people here think the same way. Darko Vasic, Novi Sad, Serbia
I support Mladic's arrest and prosecution. Although it looks pretty strange that he was arrested after the EU put some additional pressure on meeting the conditions in order to join EU. It seems the current regime had known where he was hiding and they arrested him right before elections in order to gain some more votes. One man mustn't keep our destiny in his hands, like Mladic did. I just hope there won't be any new conditions set by the European Union. Milos Djuric, Gornji Milanovac, Serbia
Well, everyone here seems to be surprised. It looks like no-one expected that they would arrest Mladic. For some here, he's a national hero, for others just a bad part of our history waiting to be ended... I hope this will end all the suffering of Serbians. Miroslav Alterov, Pancevo, Serbia
Related Internet Links
The BBC is not responsible for the content of external sites.