Ratko Mladic arrest: What next for Serbia?
By Tim Judah
Balkans analyst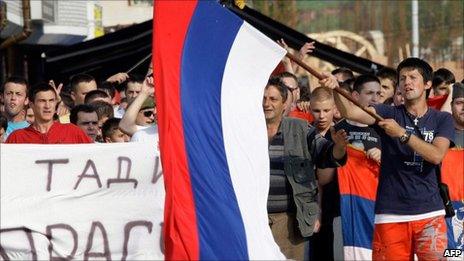 "Mladic is the past," says Serbia's Interior Minister Ivica Dacic, referring to Thursday's arrest of the former Bosnian Serb army commander indicted by the UN war crimes tribunal on charges including genocide.
In many respects he is right and it is clear that the Serbian government is now hoping to cash in on the arrest, both at home and internationally.
For several months, the government - led by the Democratic Party of Serbian President Boris Tadic - has had a clear political agenda.
It wants Serbia to be awarded the status of a candidate for membership of the European Union in December.
After that, it wants to call a general election on the basis of keeping its promise of advancing Serbia's EU integration agenda.
Of the former Yugoslav republics, Slovenia is already a member of the EU.
Croatia is a candidate but also very advanced in its negotiations for membership, while Macedonia and Montenegro are candidates but have no date to start accession talks.
Now, on the back of Gen Ratko Mladic's arrest, Serbia's government is aiming even further than candidacy. It is going to ask for a date to start accession talks at the same time.
It is an ambitious plan and certainly one that Stefan Fuele, the EU's enlargement commissioner, sympathises with. However, with a widespread anti-enlargement mood in many EU member states, this may be too much.
Still, he says enthusiastically, the arrest of Gen Mladic was just the spark that was needed to reignite the Balkan accession process.
Western Balkan countries have been afflicted with apathy, he says, and EU members with "enlargement fatigue". He hopes that the arrest will make both of these "irrelevant".
The odds are that Serbia will get candidate status but a date to start talks may be too much to hope for.
And, besides, while the arrest of Gen Mladic is a huge obstacle removed from Serbia's path, it is not the only one.
Quite apart from having to fulfil standards on all sorts of requirements, for example demonstrating that it has a well-functioning judiciary, Serbia has another major political obstacle to overcome - Kosovo.
With an overwhelmingly ethnic Albanian population, Kosovo declared independence from Serbia in 2008. Serbia rejects this, but it does not control most of Kosovo either.
Few believe that Serbia can join the EU unless a stable solution to the issue is found. Since Cyprus became a member without having solved the problem of its division first, all EU officials will tell you that this is an experience that will never be repeated again.
In March, Serbia and Kosovo began talks on mainly technical issues, but ones which touch on sovereignty and affect people's lives.
The talks have been organised by the EU. So far the atmosphere has been surprisingly good, but, as of yet, no agreements have been made.
One diplomatic source said that if Serbia wanted to achieve candidacy and move beyond, just creating a good atmosphere was not good enough.
Progress needs to be made which would suggest that, in the long run, Serbia and Kosovo could be good and co-operative neighbours.
The type of thing diplomats want to see are simple and could be agreed without prejudicing each side's position.
For example, all the while retaining its stance that it does not recognise Kosovo as a state, it is possible that a first deal could be struck allowing Kosovars to travel through Serbia with their identity cards issued by the Kosovo government, which they cannot do now.
Delighted that at least one obstacle is out of the way, Milica Delevic, the director of the Serbian government's EU integration office, says that it is clear that much remains to be done but she is also conscious that EU states are in an anti-enlargement mood at the moment.
Still, membership is years away, even under the best of circumstances. But an election is not. And Mr Tadic will surely have derived deep satisfaction from wrong-footing the country's largest opposition party.
In the wake of Gen Mladic's arrest, its leader Tomislav Nikolic seemed at a complete loss for something to say, beyond the fact that he was "surprised".
If Mr Nikolic had praised the arrest, he would have lost supporters, but if he had condemned it he would have lost the respectability he has tried to build for the party in western capitals since its founding in 2008.
So now all bets are on for EU candidacy for Serbia in December and an election in spring.
By then, Gen Mladic will have long since faded from the news and even if the government gets candidacy, the Democratic Party will also have to persuade voters that staying with them is their best bet in terms of jobs and income. This will be a much harder call, after several years of economic belt-tightening.
Tim Judah covers the Balkans for The Economist. He is also the author of The Serbs: History, Myth and the Destruction of Yugoslavia.
Related Internet Links
The BBC is not responsible for the content of external sites.