Obama in Poland to boost bilateral ties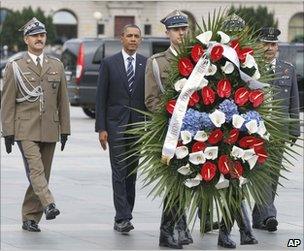 US President Barack Obama is in Poland on the final stage of his six-day European tour.
After flying in from the G8 summit in France, Mr Obama laid a wreath at the Tomb of the Unknown Soldier and visited the Warsaw Ghetto Memorial.
He is also attending a dinner with more than a dozen leaders of central and eastern EU countries.
Mr Obama will hold talks with Polish President Bronislaw Komorowski on Saturday before returning to the US.
However, Mr Obama also has some fence mending to attend to, he adds.
Normally close relations between Warsaw and Washington were strained after Mr Obama cancelled plans by his predecessor, George W Bush, to site interceptor missiles in Poland.
This shift was seen in some quarters in Warsaw as an attempt by the new administration to curry favour with Moscow.
In 1989, Poland became the first country in the Soviet bloc to shed communism in a peaceful transition negotiated by the Solidarity opposition movement, led by Lech Walesa.
Mr Obama has said that the experience of countries once behind the Iron Curtain could help Arab nations struggling for democracy.
Hours before Mr Obama's arrival, Polish headlines were dominated by reports that Mr Walesa was refusing to meet him.
Mr Walesa said he feared such a meeting would only be a "photo opportunity".
"I believe one day I will meet with Obama but not this time," he told AFP news agency.
He wished the US president "very well", then added, "but sometimes things just don't work out".
Both men are Nobel Peace Prize winners.