Russia to lift grain export ban after harvest increase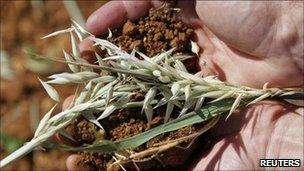 Russia is to lift a ban on exporting grain from 1 July, Prime Minister Vladimir Putin has announced.
The export ban was put in place in August last year, following an unprecedented drought and the widespread outbreak of wildfires.
Millions of tonnes of crops were lost, cutting output by some 37%.
Russia is the world's third biggest producer of wheat, barley and rye and the ban contributed to a sharp rise in global wheat prices.
In 2009, Russia exported a quarter of its annual grain output of 97 million tonnes.
But in 2010 it produced only 61m tonnes, and the government ruled that as 80m was needed for domestic consumption, none could be sent elsewhere.
The ban had been due to expire last December, but was extended over concerns of another shortfall.
The official forecast for the 2011 wheat crop has now been set at 85-90m tonnes and there had been concerns that excess crops could go to waste if the ban were not lifted.
Mr Putin's office said he had told First Deputy Prime Minister Viktor Zubkov to ensure farmers were given proper support to cope with the lifting of the ban, without giving further details.
"We are closely following the progress of this vital part of the economy and using all mechanisms at our disposal to support it," the AFP news agency quoted him as saying.
Mr Zubkov said Russia now had some of the world's cheapest grain, at about half those on the world market.
"So, considering that we really do have grain now and the state of winter grain crops is good ... I think that we can lift the export restrictions on 1 July," he said.
Some analysts have suggested the rapid rise in global food prices, resulting in part from the export ban, contributed to the unrest which broke out across the Middle East and North Africa last year.