Ratko Mladic 'resigned to extradition' on war crimes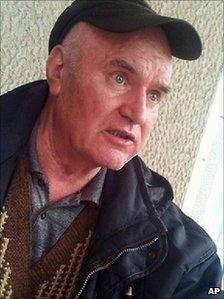 Former Bosnian Serb army chief Ratko Mladic knows he will be transferred to a UN war crimes tribunal in The Hague, his lawyer says.
Milos Saljic said his client was "in some confusion" and wanted to recover. He is to appeal against the transfer.
Gen Mladic urged calm as ultra-nationalists prepare to protest against his arrest, Mr Saljic said.
He was indicted in 1995 for the killing of about 7,500 Bosnian Muslim men and boys at Srebrenica and other crimes.
Mr Saljic said Gen Mladic had appealed to his supporters not to cause trouble.
"He knows he will go to The Hague," said Mr Saljic.
"He does not know when but he would like to recover a little bit first."Gen Mladic was declared fit to be extradited from Serbia to face trial, although his family and legal team say he is in poor health.
Mr Saljic said his client "is still in some confusion but is satisfied with the treatment in detention".
He has expressed a desire to visit the grave of his daughter who committed suicide some years ago, he added.
Serbian police chief Ivica Dacic said security had been tightened across the country ahead of a rally by the ultra-nationalist Serbian Radical Party scheduled for Sunday in Belgrade.
Extreme right-wing groups have called for their supporters - many of them said to be known football hooligans - to join the rally outside parliament.
"Additional attention has been focused on the extremist groups. We are taking measures to prevent the escalation of extremist behaviour," Mr Dacic said.
"Security has been increased, but the situation in Serbia is stable," he added.
Mr Saljic said Gen Mladic had issued "a public appeal" to his supporters not to resort to violence.
"He is calling for there to be no bloodshed," said the lawyer after meeting Gen Mladic in his cell in Belgrade.
"He does not want to be the cause of unrest."
Gen Mladic was seized in the village of Lazarevo, about 80km (50 miles) north of Belgrade, in the early hours of Thursday, reportedly as he walked in his garden shortly before dawn.
Although he had two guns with him, he put up no resistance, officials said.
When told to confirm his identity he simply replied "I am Ratko Mladic" and congratulated the authorities for finding their target.
Serbian President Boris Tadic said anyone thought to have helped Gen Mladic avoid arrest for 16 years would face prosecution.
Related Internet Links
The BBC is not responsible for the content of external sites.