Mladic: Serbia police on alert for nationalist protests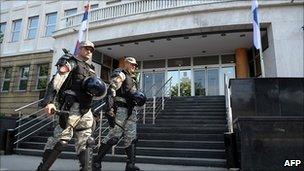 Serbian police are stepping up security ahead of a rally by ultra-nationalists angry at the arrest of ex-Bosnian Serb army chief Ratko Mladic.
The Serbian Radical Party insists the protest in Belgrade will be peaceful.
A similar rally in 2008 over the arrest of former Bosnian Serb leader Radovan Karadzic led to riots.
Gen Mladic, facing extradition to The Hague on war crimes charges, has appealed to his supporters for calm, his lawyer says.
The former Bosnian Serb strongman was indicted in 1995 for the killing of about 7,500 Bosnian Muslim men and boys at Srebrenica and other crimes.
However, to some Serbs he is a national hero.
An association of former Bosnian Serb soldiers held a separate protest against Gen Mladic's arrest in the Bosnian village of Kalinovik, where he was born.
The BBC's Nick Thorpe, in Kalinovik, said several thousand people had gathered and were protetesting peacefully.
"The police will not use force in advance only if there is a drastic violation of public peace and order," Interior Minister Ivica Dacic said, referring to the Belgrade protest.
"We are taking measures to prevent the escalation of extremist behaviour."
He said security had been stepped up, including around state buildings and embassies.Serbian Radical Party MP Vjerica Radeta told Serbian TV she did not expect any trouble.
"Our call to citizens, to our members and to supporters of the Serbian Radical Party was public and it was an invitation to come to a peaceful demonstration," she said.
The Belgrade rally is due to take place outside parliament.
Far-right group 1389 urged its supporters to "show to this regime of traitors that we are not afraid of their threats and repression and that we are ready to defend Serbian heroes".
On Saturday, Gen Mladic's lawyer Milos Saljic said his client knew he would be transferred to a UN war crimes tribunal in The Hague.
Mr Saljic is to appeal against the transfer on Monday, although Gen Mladic has already been declared fit to be extradited.
His family and legal team insist he is in poor health.
"He does not know when [he will be extradited] but he would like to recover a little bit first," Mr Saljic said.
He added that Gen Mladic, 69, had issued "a public appeal" to his supporters not to resort to violence.
"He is calling for there to be no bloodshed. He does not want to be the cause of unrest," he said.
Gen Mladic was seized in the village of Lazarevo, about 80km (50 miles) north of Belgrade, in the early hours of Thursday.
Serbian officials have vowed to pursue those who aided Gen Mladic.
Serbian war crimes prosecutor Vladimir Vukcevic told AFP: "By hiding Mladic they have caused serious damage to this country. Hiding fugitives from The Hague tribunal is a serious crime."
Related Internet Links
The BBC is not responsible for the content of external sites.