Malta reacts to historic vote to introduce divorce
By Mario Cacciottolo
BBC News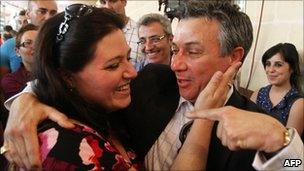 Malta's history has begun a new chapter after its citizens voted to introduce divorce to the island.
Apart from a brief period when the island fell under Napoleon's rule for about two years, divorce has never existed legally there.
The referendum outcome, its repercussions for society and the message sent to the island's Catholic Church authorities make the result as significant a moment as when Malta joined the European Union in 2004.
It is also one of the most notable episodes for the Maltese since independence was gained from the British in 1964.
Deborah Schembri, head of the Moviment Iva campaign, which is pro-divorce, said she was "obviously happy" with the result.
"I was sure that the Maltese people would be as altruistic as always and come through in their hour of need."
As the issue moves into the realm of parliament and the hands of the law makers, Ms Schembri said that she hoped that it would be a "constructive" debate among MPs.
"I hope to see Maltese politics at their best, not their worst."
She also said that MPs would not dare to try and fundamentally alter the four main points around which the referendum question was based.
These are that the married couple has been separated or living apart for at least four years; that there is no reasonable hope for reconciliation; that adequate maintenance is guaranteed; that children are protected.
Marthese Borg is vice-president of the Cana movement, a voluntary organisation within the Catholic Church of Malta which promotes family life.
It also runs the marriage preparation classes that all couples who wish to marry in a Maltese church must first attend, and is staffed by 1,000 members, many of whom are volunteers.
Mrs Borg said she was "sad" about the referendum result.
"I really believe that divorce is not the solution and that the country is not going to gain anything," she said.
"But there's no use crying over spilt milk. Now Cana, the Church and the government have all got to work harder to build stronger marriages.
"The Church especially - it does already reach out to people, but it has to do this even more in future."
Mrs Borg said she hoped that any legislation passed in Malta would not allow "no fault" divorces, a type which is easier to agree because neither party is blamed.
"It's quite inhumane that someone can just get up and go. I'm also concerned about children and spouses being provided for after a break-up.
"If a man goes into another relationship and has more children, he's going to find it difficult to support two families. What will happen then? The burden will fall on the taxpayer, which is not going to solve our social problems."
The country's opposition leader, Labour's Joseph Muscat, was in favour of divorce, although his party did not declare a position either way.
He said: "Malta has today shown it is changing.
"There are no winners or losers in today's referendum. But we are seeing a nation which is respecting civil liberties and tolerance.
"The will of the majority now has to be respected and the law must be enacted, without ignoring the views of the minority. The Labour Party was proud of the respect shown to the views of all sides."
Malta's Prime Minister Lawrence Gonzi is against divorce but called a referendum in an attempt to settle the issue, once a private member's bill had been presented to parliament by Nationalist MP Jeffrey Pullicino Orlando and Labour MP Evarist Bartolo.
Mr Gonzi issued a statement in which he said introducing divorce would bring challenges.
"The result in favour of divorce is not the result I wanted but now we will see that the will of the majority is executed and a divorce law is enacted.
"This won't be an easy process, it is not an easy change."
Related Internet Links
The BBC is not responsible for the content of external sites.