Mikhail Khodorkovsky case: European Court faults Russia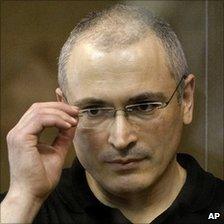 The European Court of Human Rights has ruled that Russia violated the rights of the jailed oil tycoon and outspoken Kremlin critic Mikhail Khodorkovsky.
In their unanimous ruling the judges in Strasbourg ordered Russia to pay him 24,543 euros (£21,426) in compensation.
The ruling, which is not final, said there had been violations in Khodorkovsky's conditions of detention after his arrest in October 2003.
His eight-year prison term has since been extended by another five years.
The court's judgement concerns Khodorkovsky's first conviction, in 2005 for tax fraud. That was due to expire this year, having been backdated to his arrest in 2003.
However, he was convicted in a second case in December, of stealing oil from his own company. His 13-year sentence (reduced, on appeal, from 14 years) is running concurrently with his first and will keep him in jail until 2016.
The seven European judges also found fault with the length of time he was held pending investigation and trial, and with the court procedures. The court security arrangements had "humiliated him", they said.
But the judges did not back Khodorkovsky's allegation that the prosecution against him had been politically motivated.
"Claims of political motivation behind prosecution required incontestable proof, which had not been presented," the judgment said.
On Friday Khodorkovsky lodged an appeal for parole, having served more than half of his 13-year sentence.
Khodorkovsky built up a business empire during the controversial post-Soviet privatisation of state assets.
Before his arrest he was reckoned to be Russia's richest man, managing the oil giant Yukos.
Through his lawyers he has maintained that the case against him was trumped-up - a device to block his support for liberal groups opposed to then-President Vladimir Putin.
The Strasbourg judges rejected his plea of political persecution, saying that "political status did not guarantee immunity" and that the charges against him were grounded in "reasonable suspicion".
But they condemned the way he was treated after his arrest, saying he had been kept in "inhuman and degrading conditions" in 2005.
They said he had shown no signs of violence yet he had been kept in a cage in court throughout the trial and "exposed to the public at large, which had humiliated him".
The judgment on Tuesday is not final - in the next three months any party involved can ask the Strasbourg court's Grand Chamber to re-examine the case.
Related Internet Links
The BBC is not responsible for the content of external sites.