EU Commission: Airport slots need improvement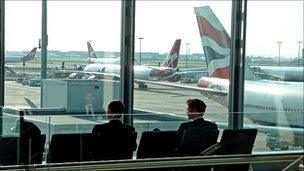 An extra 28 million passengers a year could use European airports if slots were allocated to airlines more efficiently, an EU study says.
There is intense rivalry among airlines for landing and take-off slots at the busiest European airports.
The boost from a more efficient system would still only be a fraction of total air passenger transport in Europe.
The UK alone handled 214 million air passengers in 2010, the aviation website anna.aero reports.
Apart from the UK, the biggest air transport markets in Europe last year were: Spain (193 million passengers), Germany (191 million), France (143 million) and Italy (140 million), says the website, which analyses air traffic.
The European Commission plans to introduce legislation within months to address the problem of airport congestion in Europe.
According to its analysis, better use of airport slots could bring economic benefits worth more than 5bn euros (£4.4bn) in the period 2012-2025.
The EU study says says the problem of limited capacity is likely to worsen because many busy airports, including London Heathrow and Paris Orly, do not plan to expand.
The EU study, by an independent transport planning consultancy, looked at 15 European airports, including the most congested ones, and involved key stakeholders.
It focuses on the way airport slots are allocated to airlines - a job done by co-ordinators using various criteria, including "historic preference" - a custom that favours traditional airlines.
It recommends secondary trading of airport slots EU-wide, based on what it says is successful experience at London airports.
Secondary trading means airlines can sell slots if they cannot use them efficiently. But the study recognises that in some cases, airlines do not have an incentive to do so.
The study also finds that it is difficult for new market entrants to grow operations at congested airports because few slots change hands there.
Across the EU, there are also big differences in the penalties imposed for misuse of slots, the study says.
The Commission calls for greater transparency in the way slots are used and a stricter usage threshold, to ensure that slots are not wasted while other carriers want them.
Related Internet Links
The BBC is not responsible for the content of external sites.