'Jobless Paddy': one man's fight against unemployment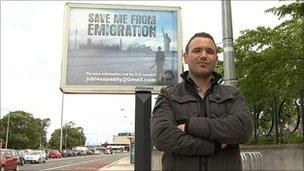 A 26-year-old Galway man has launched a billboard campaign under the title 'Jobless Paddy' in a bid to find a job after months of unemployment.
Feilim Mac An Iomaire of Inverin, Connemara, has rented a site on Merrion Road in Dublin for two weeks at a cost of 2,000 euros (£1740).
The billboard carries the headline "Save Me From Emigration" and shows the graduate standing on a shore with a suitcase in hand, looking out on a horizon of famous foreign landmarks.
Mr Mac An Iomaire, who has experience in sales and marketing, returned from a year working in Australia last August and since then has applied for more than 100 jobs.
Writing on his Facebook page he explained why he had decided to go to such lengths.
"Having tried and failed for months and exhausted all traditional job hunting avenues, I have decided to have one last throw of the dice to remain in Ireland before I am forced to look elsewhere for work and develop myself professionally," he said.
He added that he hoped to stay in Ireland and "be part of this country's recovery".