Poland troops acquitted over deadly Afghanistan raid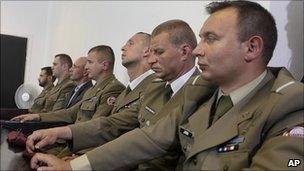 A court in Poland has acquitted seven Polish soldiers over an attack on an Afghan village in 2007 in which six civilians died.
There was no proof that the men had deliberately targeted civilians, the military court in Warsaw ruled.
The dead included women and children. Two Afghans wounded in the attack on Nangar Khel died later in hospital.
The troops, who fired mortars and machine-guns, said they had been aiming to hit Taliban militants.
Prosecutors had accused the seven of a war crime - the first such case in Poland.
Poland has 2,600 soldiers serving in Afghanistan as part of Isaf, the Nato force fighting the Taliban-led insurgency.
"Mistakes happen in war, they always have. But today, we are satisfied that Polish soldiers are not guilty of a war crime," Polish Foreign Minister Radoslaw Sikorski said after the verdict.