Belgium Church sex abuse plaintiffs to sue Vatican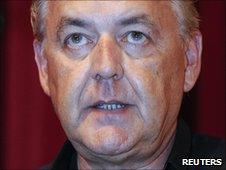 Dozens of Belgians who say they were abused as children by Roman Catholic priests have announced the launch of a legal case against the Vatican.
They accuse the Vatican and the Belgian Church of negligence by turning a blind eye to sexual abuse.
On Monday, the Belgian Catholic Church said it was willing to pay compensation to victims of abuse by clergy.
About 500 cases of alleged abuse by Catholic clergy in Belgium have been registered since last year.
Lawyers representing at least 70 plaintiffs said a summons would be served calling on Vatican officials and Belgian bishops to appear before a court in Ghent.
The text of the summons is being translated into Italian before being delivered to the Vatican.
One of the lawyers, Christine Mussche, said the offer of compensation by the Belgian church was positive, but for the moment "no more than words".
One of the plaintiffs, journalist and author Roel Verschueren, said: "We've all been living for years with a church which is in denial. Now we're turning the situation around."
There was no immediate comment from the Vatican.
An independent commission reported last year that abuse by Catholic priests had occurred in every Belgian diocese over several decades, though it found no indication that the Church had systematically sought to cover up cases.
Last year, a man who said he was the victim of an American paedophile priest launched a suit against the Pope and the Vatican in a US federal court.