Austrian court convicts Chechens over dissident's death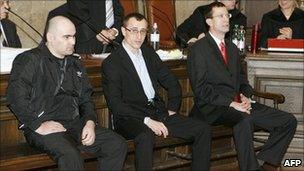 A court in Austria has convicted three Chechens of complicity in the murder of a Chechen dissident in Vienna in 2009.
Otto Kaltenbrunner, Suleiman Dadayev and Turpal-Ali Yesherkayev were sentenced to life, 19 years and 16 years in prison respectively.
Umar Israilov, a former bodyguard of Chechen President Ramzan Kadyrov, was gunned down on a street in the capital.
Austrian police believe Mr Kadyrov had ordered Israilov's abduction and that he was killed when he tried to escape.
The 27-year-old sought asylum in Austria after telling the European Court of Human Rights and Western journalists that he had witnessed Mr Kadyrov personally taking part in torture sessions.
The Chechen leader strongly denied any involvement and attempts by investigators to question him failed. Prosecutors said they did not have enough evidence to charge him, but he had close ties to the defendants.
Kaltenbrunner, Dadayev and Yesherkayev were charged with accessory to murder, forming a criminal organisation and attempted kidnapping.
Prosecutors had earlier called for them all to be given life sentences, while their lawyers had asked for acquittals.
The man who is believed to have actually fired the hail of bullets which killed Israilov, Lecha Bogatirov, is still on the run.
Human rights groups have long accused Mr Kadyrov of a campaign to eliminate opponents at home and abroad.