Ratko Mladic treated for cancer in 2009, says lawyer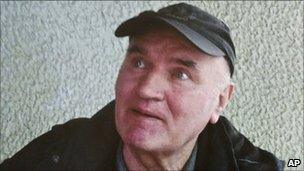 Former Bosnian Serb army commander Ratko Mladic was treated for cancer two years ago while on the run as a war crimes suspect, his lawyer has said.
Milos Saljic provided documents apparently showing Gen Mladic had lymphoma, and was treated at a Belgrade hospital in 2009.
Gen Mladic, who is awaiting trial in The Hague, is due to make his initial appearance in the court on Friday.
He is accused of atrocities committed during the 1992-95 Bosnian war.
He will be asked to plead on 11 counts of genocide, war crimes and crimes against humanity, including charges relating to the massacre of Muslims at Srebrenica.
Mr Saljic showed the Associated Press news agency a document purportedly showing Gen Mladic was treated for non-Hodgkin's lymphoma from 20 April to 18 July 2009 at a Belgrade hospital.
He said his client underwent surgery and chemotherapy.
The names of the hospital and the doctors who treated him appear to have been blacked out.
However, the authenticity of the document cannot be checked.
Gen Mladic is now in a prison hospital at The Hague, Reuters news agency quoted his lawyer, Aleksandar Aleksic, as saying.
"He has not had proper health care for years and his condition is not good," Mr Aleksic said.
Nerma Jelacic, spokeswoman for the International Tribunal for the former Yugoslavia, declined to comment on the claim that Gen Mladic had had cancer.
Serbian officials dismissed the claim.
Quoted by AP, Defence Minister Dragan Sutanovac said: "I really don't believe in that story, but we'll investigate."
Mr Saljic, who represented Gen Mladic in Belgrade before his extradition, had previously been quoted as saying by Serbian media that his client had suffered three strokes and two heart attacks, was too ill to be sent to The Hague and would not live to the end of a trial.
Serbian doctors who examined him last week said he was fit enough to be extradited.
Correspondents say tribunal officials will be anxious for Gen Mladic to avoid the fate of former Serbian President Slobodan Milosevic, who died of a heart attack four years after the start of his own war crimes trial in 2006.
Mr Saljic told AP he had only been sent the hospital document on Monday, a day before Gen Mladic was flown out to the Netherlands.
"A man called me on the phone, asking if I was interested in a document that could prevent Ratko Mladic's extradition to The Hague," he said.
When Gen Mladic appears in court at 0800 GMT on Friday, he will be asked to confirm formally his identity and enter a plea to each of the charges against him.
He may decide to delay entering a plea by 30 days, but if he has not done so at the end of this period the court will automatically enter a not guilty plea on his behalf.
He has been appointed a Serbian lawyer, Aleksandar Aleksic, as an interim counsel for Friday's hearing.
He may then choose a permanent counsel for the trial, or opt to conduct his own defence.
The prosecution has charged Gen Mladic with genocide, persecution, extermination, murder, deportation, inhumane acts and cruel treatment for his alleged part in a plot to achieve the "elimination or permanent removal" of Muslims from large parts of Bosnia in pursuit of a "Greater Serbia".
He is accused of masterminding the 1995 Srebrenica massacre of about 7,500 Bosniak (Bosnian Muslim) men and boys, Europe's worst atrocity since World War II.
He is also charged over the 44-month siege of the capital Sarajevo from May 1992 in which 10,000 people died.
Gen Mladic's arrest is considered crucial to Serbia's bid to join the European Union.
Related Internet Links
The BBC is not responsible for the content of external sites.