Three Russian tourists die in Turkish alcohol poisoning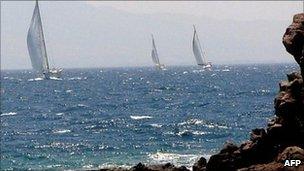 Three young Russian women have died and others are in hospital after drinking poisoned alcohol on a yacht in Turkey, Russian and Turkish media report.
One of the women died after returning to Moscow while the other deaths occurred in Turkey after the poisoning in the resort of Bodrum.
Twenty Russians and one Turk were affected, and one woman is in a coma.
As Turkish police began an investigation, samples were taken of alcohol on the yacht for analysis.
Russian prosecutors have also opened an investigation, which they said they hoped to conduct in Turkey.
The party of some 60 Russians was largely made up of travel agency managers, in Turkey for a fact-finding visit, the Russian newspaper Argumenty i fakty reports.
Anatasia Lavrenko, whose friend Marina Shevelyova died in Moscow, told Russian online newspaper Life News they had paid $50 for the night-time cruise and each had been served between 10 and 12 of their favourite cocktails, whiskey and cola.
"Sometimes it seemed like the taste of the alcohol was too strong but then I thought the barmen had simply poured out too much whiskey and I did not attach any importance to it," she said.
The day after the cruise, when they were due to fly home together, both women woke feeling ill but put it down to a hangover.
However, Ms Shevelyova became more and more sick on the flight back and, after being rushed to hospital in Moscow, died on Tuesday.
Russian media say the cause of the poisoning is believed to be methanol mixed with whiskey.
Turkey's agriculture ministry said in a statement that the alcoholic drinks served on the yacht had been imported by an Ankara company from North Cyprus and distributed to Ankara, Mersin, Antalya and Mugla.
"Necessary precautions will be taken in accordance with the results of the analysis, which are expected to be obtained within a week," it was quoted as saying by Turkey's Today's Zaman newspaper.
Related Internet Links
The BBC is not responsible for the content of external sites.