Landmark Hitler letter on Jews unveiled in New York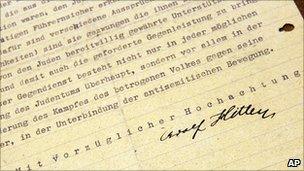 A letter by Adolf Hitler - said to be the earliest expression of his ideas on anti-Semitism - has been shown publicly for the first time in New York.
The four-page typed letter, written in 1919, calls for the "uncompromising removal" of Jews from society.
It was acquired by the Simon Wiesenthal Centre in Los Angeles, where it is due to go on display.
The statement by the then 30-year-old soldier is regarded as a key historical document from the period.
Correspondents say it is seen as significant because it demonstrates how early the future Nazi leader was forming his views.
The document suggests that Hitler already believed, more than two decades before the Holocaust, that Jews should be removed from society.
"To begin with, Judaism is definitely a racial and not a religious group," Hitler wrote in the statement, known as the Gemlich letter.
"The result of which is that a non-German race lives among us with its own feelings, thoughts and aspirations, while having all the same rights as we do."
In one section of the letter, Hitler writes that a government could tackle the so-called "Jewish question" by denying their rights, but said the "final aim, however, must be the uncompromising removal of the Jews altogether".
Rabbi Marvin Hier of the Simon Wiesenthal Center said that the organisation bought the letter for $150,000 (£90,000) from a private dealer last month.
He said the letter - the existence of which has long been known to scholars - was a critical document from World War II because it "ties Hitler directly to the destruction of the Jews".
"In 1919, when he was a nobody he writes a letter... we need not emotional pogroms, we need legislation, we need a national government that would be ruthless enough, to do what? Total removal of the Jews from society," he told the BBC.
When it was written, Hitler was serving in the German army, and had had a tendency to stir up troops with his anti-Semitic rhetoric.
A superior officer asked him to put his ideas on paper, according to AP news agency.
The document was displayed at New York's Museum of Tolerance, but it will go on permanent show in Los Angeles from July.
Related Internet Links
The BBC is not responsible for the content of external sites.