Lenin impersonator ill after arrest on Red Square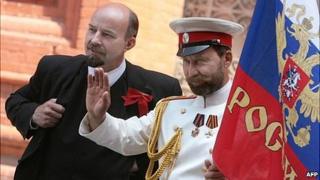 A famous Lenin impersonator who poses for photos with tourists on Moscow's Red Square has fallen ill after being arrested, Russian media report.
Sergei Solovyov, 53, was detained after complaints from vendors reportedly "aggrieved" by his appearance and foul language - a charge he denied.
When Mr Solovyov was taken before a judge, he fell ill with high blood pressure and was rushed to hospital.
A tsar impersonator working with him accused police of harassment.
Viktor Chepkasov, 55, told media he had been working alongside "Lenin" for years as his arch-enemy Nicholas II, Russia's last tsar.
The two men pose on Red Square, one of Moscow's top tourist destinations, which houses the mausoleum where the remains of the real Lenin are still preserved amid some controversy.
'Foul language'
Mr Solovyov was detained by police on Monday minutes after a phone call from a street vendor "aggrieved by [Mr Solovyov's] appearance", Russian news website LifeNews reports.
Mr Chepkasov, who accompanied his friend to the police station, appeared to know the caller, telling the website he "traded incense and begged for money on the square".
At the scene, he added, another vendor told police "Lenin" had been swearing obscenely.
According to the Moskovsky Komsomolets newspaper, both vendors - one an Orthodox Christian and the other a Hare Krishna follower - had phoned police to complain about alleged foul language outside a church on the square.
Accused of hooliganism, Mr Solovyov told police: "I did not use obscene language. I am not capable of such a thing."
On Tuesday in court, his defence asked for the two complainants to be produced and also for time to summon their own witnesses.
It was at that stage that Mr Solovyov took ill and the judge postponed the hearing.
Letter from Brezhnev
Speaking to LifeNews, "the Tsar" said police had been harassing the impersonators for years.
"They periodically try to arrest us, on the most absurd pretexts: answering the call of nature in a corner, swearing or insulting a citizen."
According to Moskovsky Komsomolets, both "Lenin" and "the Tsar" were arrested in 2009 along with a third impersonator.
Details of that particular incident, in which "Brezhnev" apparently "betrayed" his fellow look-alikes by writing a denunciation of "the Tsar", were not given.