Greece bail-out: Cabinet 'approves cuts' amid strike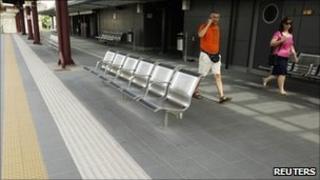 The Greek cabinet has backed new budget cuts and is ready to put them to parliament, sources said on a day of strike action by public sector workers.
Ministers endorsed a mid-term fiscal and privatisation plan required by the EU and the IMF as part of their bail-out conditions.
The vote in parliament is expected by early July.
The decision came as a strike by transport workers and other employees brought disruption to Athens commuters.
Unions fear a massive sale of state assets is being planned, with subsequent job losses.
An official involved in the cabinet talks told the Associated Press news agency "the fairest possible solution" had been found, without giving details.
"The approval and submission of the bill today in parliament shows that we worked to find the best possible path," a minister at the meeting, who also declined to be named, told Reuters.
International lenders say the cuts are necessary if Greece is to continue receiving financial support.
Earlier, German Finance Minister Wolfgang Schaeuble said the 110bn euro (£161bn; £98bn) Greek bail-out package agreed last year was insufficient.
There was a "real risk" of default if further funds were not released soon, he added.
Protest march
Workers on the Athens metro and bus service left their jobs during the morning rush hour, and the national railway system was also down.
Staff at ports, post offices and banks were also expected to withdraw their labour.
Workers from companies earmarked for privatisation held a protest march through the city, their number put at between a few hundred and 2,000. Pensioners also demonstrated.
A general strike has been called for 15 June.
Most analysts are convinced the loss-making state railway system will only be attractive to potential buyers if large parts of the network are closed down, the BBC's Malcolm Brabant reports from Athens.
For the past two weeks, nightly protest rallies have also been held outside parliament, in the main square of the capital, where a tent city has been erected.
On Sunday, an estimated 50,000 people attended.
There is increasing speculation that Prime Minister George Papandreou may be planning a cabinet reshuffle to try to force through changes, our correspondent adds.
Some newspapers are predicting that one of the potential victims of a reshuffle could be the Finance Minister, George Papaconstantinou.
He has come under attack from a rebel group of MPs within the socialist governing party Pasok who are angry that the administration is giving in to the demands of EU and IMF lenders.
Next tranche
At the end of last week, EU ministers and the IMF said the next tranche of the bail-out would be paid, most likely in July.
Reports also suggested a new, extended bail-out was being finalised.
Jean-Claude Juncker, head of the group of eurozone finance ministers, said he thought extra help was likely, in exchange for additional deficit-cutting measures implemented by Athens.
Finance ministers are due to meet again on 19 and 20 June.
On Wednesday, official figures showed Greece's unemployment rate had risen to 16.2% in March, up from 15.9% in February.
The number of people out of work was 811,340, a rise of 40% on the 578,723 unemployed a year earlier.
The unemployment rate among 15-24 year olds was 42.5%.