Finland football rocked by match-fixing scandal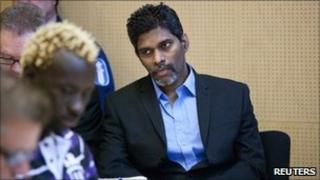 Finnish football has been rocked by a match-fixing scandal which has implications across the world.
Nine former members of one team and a Singapore national accused of organising the scams have been put on trial.
Meanwhile, a criminal investigation has begun into another club suspected of money-laundering.
Betting syndicates have been said to make as much as $1.5m (£0.9m) from fixed games.
The Finnish League, which began its new season in May, usually commands a low profile in the global game.
'Tip of the iceberg'
But events over the past few months have brought it to the attention of football's world governing body, and its fight against corruption.
Tampere, Finland's former champions, have been suspended.
The club received $435,000 from a Singapore company, but officials could not explain why they had been given such a large sum. Money-laundering is suspected.
Finnish police have said the case is linked to the trial of seven Zambians and two Georgians who used to play for a different club in the north of the country.
They are accused of accepting bribes worth more than $750,000 to affect the outcome of matches.
In the same trial Wilson Raj Perumal, a Singaporean, is charged with arranging the payments.
Fifa also want to speak to Mr Perumal about international friendly matches involving Asian and African teams that are suspected of being fixed.
Last month, two Zambian brothers who played for another Finnish side were convicted of taking bribes from Mr Perumal.
The officer leading the investigation in Finland said there was serious speculation this was only the tip of the iceberg.