Chechnya: Kadyrov loses Memorial defamation case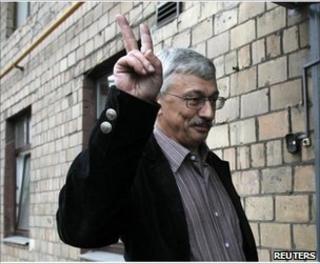 Ramzan Kadyrov, Chechnya's Moscow-backed president, has lost a defamation case against one of Russia's most prominent human rights activists.
A Moscow court cleared Oleg Orlov of accusing him of personal involvement in the murder of fellow activist Natalya Estemirova in Chechnya in 2009.
It found the head of rights group Memorial had only expressed an opinion.
Observers who have often accused Russian courts of lacking independence were surprised by the verdict.
Nobody has been prosecuted for the murder of Estemirova, who was abducted from outside her home in the Chechen capital Grozny on 15 July 2009.
Her bullet-riddled body was found hours later in the neighbouring region of Ingushetia.
She had been a leading member of Memorial, which is Russia's best-known domestic human rights organisation.
'Not in the criminal sense'
Hours after the murder, Mr Orlov was quoted by Memorial as saying: "I know, I am sure who is guilty of Natalya Estemirova's murder. We all know this person. His name is Ramzan Kadyrov...
"We do not know if he gave the order himself or if his close associates did so to please their superiors. But evidently [Russian] President [Dmitry] Medvedev is happy having a killer run one of the Russian Federation's regions."
Mr Kadyrov, who vowed to catch Estemirova's killers while condemning the victim herself as someone "devoid of honour", took a civil action against Mr Orlov, winning symbolic damages from him in 2009.
He then pursued a criminal action.
On Tuesday, Moscow's Khamovnichesky magistrate's court ruled: "An analysis of the documents of the criminal investigation shows that no crime was committed."
It accepted Mr Orlov's argument that he had been speaking of Mr Kadyrov's guilt "not in the criminal sense, but in the social and political sense".
'Incredibly important' verdict
"I don't regret a single word I said publicly and for which I am being blamed now," Mr Orlov told the court ahead of its ruling.
"My actions were not a crime. I have proved my case here, and I have defended the right of Russian citizens to freely speak their mind."
Tanya Lokshina, deputy head of the Moscow bureau of Human Rights Watch, was delighted at the verdict.
"We are really happy about the outcome of the trial," she told Reuters news agency.
"It's incredibly important for all of Russia's human rights community."