Russia and Chechnya: The killing of Budanov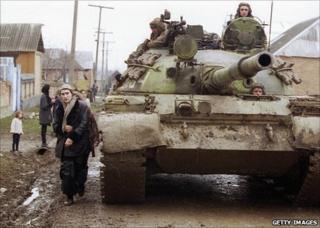 The shooting of Yuri Budanov, who was one of Vladimir Putin's highest-profile soldiers in Chechnya before being arrested and jailed for murder, was largely greeted with silence by Moscow's political elite.
Calls for a hearing into the death of the disgraced former colonel, gunned down two years after being paroled, were rejected by Russia's parliament. The ruling party explained it was too early to draw conclusions.
It was left to prosecutors to state the bald facts of the killing: shot four times in the head on a Moscow avenue around noon on 10 June; gunman fled in car later found abandoned and on fire a few streets away; pistol fitted with silencer recovered from same car.
All in all, the elements of just another contract killing, like many others down the years in the so-called Wild East - except that this was no ordinary victim, and the police who went to the crime scene knew it.
The body was left lying uncovered for hours as explosive experts checked for booby-traps, while the media filmed and photographed the scene extensively.
According to the prosecutors, there was no immediate information to suggest "ethnic groups" were behind the killing.
However, it is no secret that Budanov was loathed in Chechnya and, given the long tradition of vendettas in the North Caucasus, the theory of a revenge attack looks plausible.
During the war in Chechnya, Budanov strangled to death a young woman, Elza Kungayeva, whom he accused of being a sniper. Her dead body was later found violated.
But if revenge was the motive for his own killing, it may equally have been revenge for something else.
Other versions
According to some of the more obscure theories being proffered by observers, the shooting was variously the work of Russia's own shadowy security services, Russian ultra-nationalists or anti-Kremlin elements based abroad.
One suggestion is that the killing was aimed at inflaming ethnic relations or otherwise destabilising the country.
However, there has been no backlash among nationalists, who still regard Budanov as a war hero or, at worst, a concussed war victim himself.
The killer and his apparent accomplice do appear to have been professionals.
CCTV footage published by the Russian-language news website LifeNews shows the presumed gunman managing to keep his face hidden from the camera as he calmly waits for his unsuspecting victim to finish a cigarette and walk towards his car. Footage from a second camera shows the killers nimbly disposing of the getaway car minutes later.
While this talent for the grisly business of assassination may suggest to some the involvement of the security services, Russia has no shortage of trained killers - some of whom would presumably not think twice about shooting a man next to a children's playground, as happened with Budanov.
Kommersant, the Russian business newspaper, investigated the theory that he had been shot because of his more recent business activities.
After a period spent in hiding following his release from prison, he had found work in a Moscow housing owners' association, according to the paper.
Last year the city recorded two murders and one attempted murder involving such associations, the paper noted, but then added that Budanov had occupied only a modest post in his association, meaning detectives were "in no hurry to draw an analogy".
For now, at least, it is not clear how anyone in Russia stood to benefit from his death.
'Not for Elza'
Visa Kungayev, father of the murdered woman, told the Russian news website Kavkazsky Uzel from his new home in Norway that he had learnt the news of Budanov's death through the media.
"This was not revenge for Elza Kungayeva," he said. "I alone should have avenged her but had I wanted to do that, I would not have gone through the courts."
Minkail Ezhiyev, a spokesman for the Chechen branch of Russian human rights organisation Memorial, told Kommersant the Kungayev family were "simple country people".
"Even had they wanted to, they could not have carried out such a revenge attack in Moscow," he said.
But Budanov had other enemies in Chechnya, where the tank commander saw action during both wars, receiving three separate concussion wounds between 1995 and 1999.
After his release from prison, Chechnya's Kremlin-backed authorities tried unsuccessfully to have him prosecuted on their territory for the abduction and murder of three other people.
Ordinary Chechens, apparently interviewed at random by the Russian broadcaster NTV, said variously that Budanov had got his "just desserts" and "it was a dog's death for a dog".
There was little word from the Chechen authorities themselves apart from a comment by Adam Delimkhanov, MP for the region and an ally of its leader Ramzan Kadyrov, who told the online Russian newspaper gazeta.ru: "This was, I believe, retribution."
Battered system
Russia has a history of unsolved assassinations but one of the most notorious, that of journalist Anna Politkovskaya, looked a little closer to resolution last month when the chief suspect was arrested in Chechnya after years on the run.
It appeared that the rule of law, trampled on over two decades of bloody conflict between Russians and Chechens, might be taking hold at last.
Budanov's trial had also been regarded as a test of the Russian legal system.
At the time, he was the most senior Russian officer to be tried for a crime against a Chechen civilian.
His face was familiar from TV interviews during the war. He was a decorated commander whose portrait once adorned the army newspaper Krasnaya Zvezda. If Budanov was capable of an appalling crime, how many other soldiers might be criminals too?
Since then, there have been few other prosecutions for crimes by Russian forces in Chechnya, but the issue refuses to go away.
Another fugitive from justice, this time former Russian army Lieutenant Sergei Arakcheyev, who was convicted of massacring civilians and sentenced to 15 years and is still on the run, appealed this week to Vladimir Putin in a video to support his campaign to clear his name.
Writing about Budanov's death, Russian blogger Yuri Mamchur argues that the lesson many Russians will take from it is that the legal system does not work, and he is concerned people will now decide to take the law into their own hands.
An editorial in the Russian newspaper Vedomosti argues that both Russians and Chechens have acted far outside the law in their on-off conflict for too long, and that without "honest courts", killings like that of Budanov may become the norm.
"Without such courts, whose rulings would be believed both in Russia and in Chechnya, the separation into 'them' and 'us' will deepen," it says.
For many in Russia, a full and proper investigation into the murder of Budanov may be one step towards restoring faith in the law.