Greece: Tax collectors hit the pavements, seeking work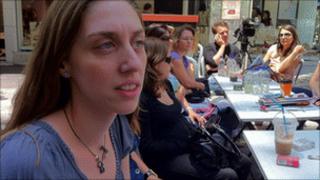 The graffiti on the Greek Finance Ministry says "Police Murderers, German Informers". Above it are the shatter marks of numerous projectiles.
Just around the corner is a group of smart young women, sitting at a trestle table in the middle of the street, next to their tents.
It's their 16th night of camping here. They are fresh-faced; devoid of the tattoos and nose-studs that are the mark of the "indignant ones" camped across the square.
From a distance they could pass as young civil servants, accountants, lawyers. Because that is exactly what they are.
Tax evasion
They are part of a cohort of 100 graduates who, 18 months ago, passed the exam to become tax collectors and customs officials in the Finance Ministry. But there is no money to employ them.
Most are now living with their parents; eking out a living on benefits. Last month, with Spanish youth camping on the streets and then Greek radical youth launching their copycat occupations, these not-very-indignant-but-quietly-livid ones got their tents out and began camping here, right on the doorstep of the ministry they hope to work in.
"Our future is unpredictable," says Anna Palamiotou. "Even our short term future: three to six months we don't know what will happen. We hope, of course: that's the best we can do. We try to keep hoping personally, as a nation, as a community."
The irony is, tax collectors and customs officers are exactly what Greece needs more of. It was the Greek culture of respectable tax evasion which helped sink the country's finances.
Now all parties claim to bemoan it, and want it fixed.
But with a deficit so high, the Greek state has been ordered to shrink, not grow: so despite their exams, Anna and her friends are stuck here on the street.
Government reshuffle
On Wednesday they were shocked to find a full-scale riot, with masked anarchists and Kevlar-clad riot cops, surge in a rolling maul down the street they are camped in.
"They crushed our chairs," says Anna, with glance at a pile of plastic rubble.
But now they are back, like the indignatos in the main square; texting, iPodding, chatting and sipping coffee behind their regulation south-European female eye wear: giant white sunglasses.
What will it take to make them leave?
"We have no plans to," Anna says.
All around them, the political crisis has been unfolding today, equally chaotic as Wednesday's riot. Prime Minister George Papandreou, having offered to form a coalition government of national unity with the right wing opposition, and failed, has been trying to reshuffle his cabinet to regain legitimacy.
That means, within hours, there will be a new Greek finance minister - even if no more money for extra people at the ministry. To this new minister, Anna's message is stark:
"He has to take some measures, of course. But he has also to know the people have made many sacrifices and we have a limit beneath which we can't live. He has to respect us."