'Jobless Paddy' takes job offer in Ireland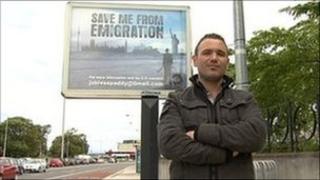 An Irishman who found fame after using a billboard to advertise his availability for work has taken up a job offer.
RTE has reported that Feilim Mac an Iomaire, who is also known as "Jobless Paddy", has taken a six month contract with a high profile bookmakers' firm.
In May, the Galway native spent all his savings, about 2,000 euros, renting the billboard in Dublin.
It said "Save me from Emigration" and showed showed him carrying a suitcase and global landmarks like Sydney Opera House and the Statue of Liberty behind him.
At the time, he described it as his last role of the dice, having applied for more than 100 jobs since returning from Australia last August.
His story was carried as far away as the United States and Nicaragua.
RTE said that following the campaign, the marketing graduate received more than 20 job interviews and five firm offers.