Boy's fake traffic crash stunt divides Russians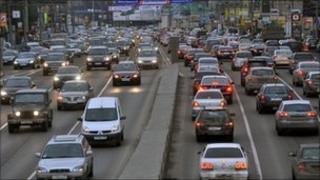 A fierce debate is gripping Russian internet forums over a police stunt to highlight indifference towards the aftermath of traffic accidents.
A fake accident scene was staged in a village in the Astrakhan region in which a boy of 14 was covered in fake blood and placed face down by a road.
Some drivers slowed down but no-one called for help, police said.
Some human rights groups argued it was wrong to use the child despite the consent of the boy's mother.
Russia has one the worst records for traffic fatalities in the world, with a death rate more than twice the European average.
Last year alone, some 26,000 Russians died as a result of traffic accidents.
'Unacceptable'
The teenager was not harmed, and his mother, local teacher Galina Razzhigina, said she had suggested the fake accident herself.
"It's not the first time we are doing it, we have done similar things in the past," she told the BBC's Russian service.
Local police spokesman Pyotr Rusanov told the BBC the experiment had shown the irresponsible habits of local drivers.
"We just wanted to show what a problem we have with the discipline of driving," he said.
"Staging a... thriller, with bones and blood, wasn't our intention at all."
But for many the most shocking thing was the fact that a real child, not a dummy, was left lying at the side of a road.
"Such a dramatisation is unacceptable, you can't use humans in a situation like this, even if you have the best of intentions," said the head of the Moscow Helsinki Group, human rights campaigner Lyudmila Alexeyeva.
'No big deal'
Others, including the Russian ombudsman for children's rights, Pavel Astakhov, did not seem to see anything cruel or unusual about the actions of the Astrakhan traffic police.
The 14-year-old himself told the Russian news website LifeNews he had not been frightened to take part in the experiment and had enjoyed himself.
"It was cool to check drivers' reactions," he said. "It's not a big deal to lie on a road for a while."
Oleg, a Russian BBC user in Sochi, said the fact that no-one had called emergency services proved that police were right to stage the accident.
"It would be interesting to do the same experiment in other countries to see the difference," he added.
However, another user, Konstantin in Moscow, said that when he had witnessed a similar scene in Moscow, only this time for real, "many drivers stopped and tried to help".
"The ambulance came in 10 minutes together with the police," he said.