Making waves - NI surfers to take on Europe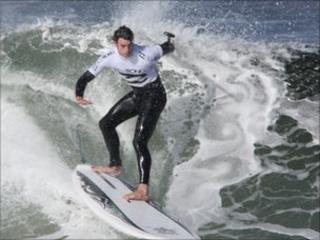 The rolling waves of the Causeway Coast have often been described as the perfect training ground for great surfers.
So it should come as no surprise that when the European Surfing Championships take place in Donegal later this year, three people from Northern Ireland will be on the Irish national squad.
John McCurry from Portrush, Ronan Oertzen from Belfast and Tyrone's Darragh McCarter are amongst the 13 members of Team Ireland.
They will be taking part in the international surfing showdown, Eurosurf, in Bundoran from 23 September until 2 October.
It is the fourth time the event has been held in Irish waters since 1972.
"Because it's on home soil this year I am more ramped up than normal," said John. "It's on our doorstep.
"I'm really happy to be back on the team. This will be my ninth cap for Ireland.
"It's the first time it will have been held here in quite a while and Bundoran is one of the premier spots out there."
The 26 year old, who is the current Irish senior champion, will spend the rest of the summer chasing his fourth national title. Although his eyes are on that prize for the moment, the Eurosurf contest is never far from his mind.
"There's a sense of patriotism that comes with being on the national team and it's great that there's a couple of us from the North on there," John added.
World-class
Another NI talent is 20-year-old Irish intervarsity champion Ronan Oertzen. He started surfing when he was just 13, and has barely been on dry land since.
"I remember watching a film about surfing and that was it," he said. "My parents got me a board for my birthday and I entered my first contest six months later."
Like most surfers he "lives" the sport. So much so, that two years ago he packed up his surfboard and moved to Bundoran.
Famed for its explosive waves and world-class reefs the seaside town is viewed as the jewel in Ireland's surfing crown.
"It is going to be amazing to surf and compete in the place that you live, with all your friends and family around," said Ronan.
"It's my second time competing in the Europeans, but it is way more important to me this year. I would have been devastated if I hadn't got on the team.
"I think we have a really good chance. It is our strongest team ever and it's our home break."
While, most people shiver at the very thought of dipping a toe in the Atlantic, Ronan said he believes the icy waters off the North West coast could in fact work in the team's favour.
He thinks it will give them an edge over their more exotic European rivals. "It's colder and a lot of them won't be used to that," he added.
The NI presence on the team is further bolstered by University of Ulster graduate Shauna Ward, who will compete in the women's division of the contest.
Coach Pascal Devine, from Newtownstewart in County Tyrone and manager Stevie Burns from Portrush complete the NI contingent.
They will be putting the squad through their paces over the next few months as they prepare to take on the best that the Europe has to offer.
Sixteen teams, including Morocco and Israel will battle it out for the coveted Eurosurf title. But Team Ireland will be eager to send them paddling home empty handed.