Greek PM urges national unity over debt rescue plan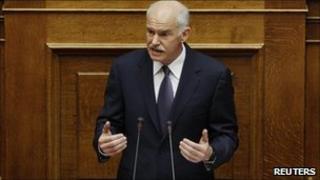 Greek Prime Minister George Papandreou has called on members of parliament to forge a "national accord" to deal with the country's debt crisis.
Speaking at the start of three days of debate, Mr Papandreou said the country was "at a crucial point" and risked a catastrophic default if it did not act.
He urged MPs to give their backing to the new cabinet and finance minister.
Eurozone finance ministers are set to meet in Luxembourg to discuss releasing a loan of up to 12bn-euro (£10bn).
Greece needs the loan - the latest tranche of a 110bn EU and IMF aid package agreed in May last year - to avoid defaulting on its looming debts.
The money is conditional on the government implementing a series of painful domestic reforms which have sparked nationwide strikes, rallies and violent riots on the streets of the capital.
Mr Papandreou told parliament the country would soon run out of money if politicians did not take action.
Referendum
"I have asked for a renewal of confidence in the government, because the country finds itself at a crucial point," he told parliament, at the start of three days of debate.
Mr Papandreou reshuffled his cabinet on Friday, with former Defence Minister Evangelos Venizelos replacing George Papaconstantinou in the finance ministry.
The move sparked a jump in Greek bank shares but failed to ease public anger.
The prime minister said his priority was "a national accord to tackle the Greek debt and deficit which are a national problem", warning that the image of disunity was damaging the country's reputation.
But he also said a reform of political system was needed, and proposed a referendum later this year on possible changes to the constitution.
However, opposition politicians who oppose the government's austerity plans rejected Mr Papandreou's appeal and asked why the public should be asked to make sacrifices in vain.
There were calls for Mr Papandreou to resign and call elections.
The BBC's Chris Morris said Mr Papandreou's' speech was intended to appeal to parliament, the Greek public and the public across the eurozone.
The prime minister does not want to be appear to be doing nothing in a crisis, says our correspondent.
But what public support there was for the austerity plans appears to be fading, with a recent poll suggesting the majority of people now oppose it.
Many critics say the country should just default, but doing so would raise the cost of borrowing for other struggling eurozone countries, forcing them to default in turn.
On Saturday, Luxembourg Prime Minister Jean-Claude Juncker and head of the group of eurozone finance ministers warned that the Greek crisis was endangering the economies of at least five other euro countries.
But he said a German plan to ask private investors to share some of the debts was "playing with fire".