Geert Wilders cleared of hate charges by Dutch court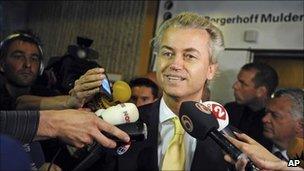 Dutch far-right politician Geert Wilders, who described Islam as "fascist", has been acquitted of inciting hatred against Muslims.
Amsterdam judge Marcel van Oosten accepted the Freedom Party leader's statements were directed at Islam and not at Muslim believers.
They were, the judge ruled, "acceptable within the context of public debate".
It is believed the plaintiffs may attempt to make their case before a European court or the UN.
Their lawyer, Ties Prakken, was quoted by Dutch newspaper De Telegraaf as saying they were "deeply disappointed" and believed the right of minorities to be protected against hate speech had been violated.
Mr Wilders has compared the Koran to Hitler's Mein Kampf.
Judge van Oosten said that although the bench found remarks by Mr Wilders "gross and denigrating", they had not given rise to hatred.
The verdict was greeted with applause from Mr Wilders' supporters in the public gallery.
Outside the courtroom, the 47-year-old politician said he was "incredibly happy" with the verdict.
"It's not only an acquittal for me, but a victory for freedom of expression in the Netherlands," he said.
"Now the good news is that it's also legal to be critical about Islam, to speak publicly in a critical way about Islam and this is something that we need because the Islamisation of our societies is a major problem and a threat to our freedom and I'm allowed to say so."
Members of minority groups who initiated the case had told the trial that Mr Wilders' comments had led to a rise in discrimination and violence against Muslims.
Plaintiffs had been seeking a symbolic one-euro fine. Before the court verdict, they had said they would consider taking their case to the European Court of Human Rights.
Mr Wilders was charged with inciting hatred and discrimination in January 2009, based on anti-Islamic statements he had made in speeches, written articles and in his controversial film Fitna.
His trial began in January 2010, after judges of the court in Amsterdam ruled that the case should be heard - despite a decision by the public prosecutors' office not to pursue it.
Even during the trial, the prosecutors had called for Mr Wilders to be acquitted, saying that while his remarks were offensive they should be part of legitimate political debate.
Although not part of the coalition government, the support of Mr Wilders's Freedom Party (PVV) keeps it in power.
Related Internet Links
The BBC is not responsible for the content of external sites.