Dozens named in Greece football 'scandal'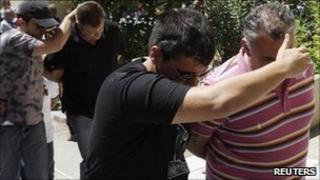 Nearly 70 people have been named in Greece in connection with an alleged football match-fixing scandal.
They include two Super League club presidents, club owners, players, referees and a chief of police.
They are charged with a variety of offences including illegal gambling, fraud, extortion and money laundering.
The deputy culture minister, Giorgos Nikitiadis, described the alleged scandal as "the darkest page in the history of Greek football".
He promised the investigation to clean up the sport would go "as deep and as high as necessary".
Ten suspects were arrested and detained earlier in the week.
'Violent threats'
The investigation began after European football's governing body Uefa published a list of 41 match results from 2009-10 which they believe to be suspicious.
Among the 68 suspects named by judicial authorities on Friday were Vangelis Marinakis, Greece's top football league official and chairman of champion club Olympiakos Piraeus, and Avraam Papadopoulos, national team and Olympiakos defender.
Both men deny involvement.
Late on Friday, a court order banned all 68 from leaving the country.
Details of the alleged scandal were given in a 130-page document seen by the news agency Associated Press.
It says the document contains numerous transcripts of recorded telephone conversations - many filled with profanities and threats of physical violence - allegedly between corrupt team officials deciding match results, using players and referees.
Bets on the allegedly fixed games were placed online or with betting agencies in Greece, Europe and Asian countries, according to the document, AP says.