Amanda Knox: 'Doubts raised' over DNA evidence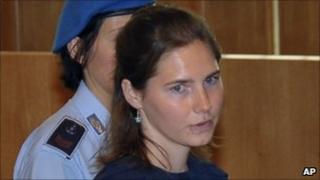 Experts have raised doubts about DNA evidence that helped convict US student Amanda Knox of the murder of Meredith Kercher, a leaked report says.
The Italian experts, who have been carrying out tests as part of Knox's appeal, said they could not be certain DNA traces found on a knife were those of 21-year-old Miss Kercher.
Other DNA traces could have been contaminated, they also said.
Miss Kercher, of Coulsdon, Surrey, was found dead in Perugia, Italy, in 2007.
Her throat had been cut after what prosecutors claimed was a sex game taken to the extreme.
Knox, 23, and her Italian ex-boyfriend Raffaele Sollecito, 26, are appealing against their convictions.
'Unreliable'
Knox is serving a 26-year sentence for Miss Kercher's murder while Sollecito was sentenced to 25 years.
The original trial said the knife, which was found in Sollecito's house, had traces of Knox's DNA on the handle and of Kercher's DNA on the blade.
Prosecutors also maintained that Sollecito's DNA was found on Miss Kercher's bra clasp.
Those findings were disputed by the defence, and the appeals court granted an independent review.
The report on the DNA evidence was filed to the Perugia court on Wednesday.
It was requested by the defence and conducted by two court-appointed experts - Stefano Conti and Carla Vecchiotti from Rome's Sapienza University.
AP news agency said that in it, the experts said the genetic profile attributed to Kercher is "unreliable" and cannot be attributed with certainty.
Regarding the blade, the experts said: "We believe that the technical tests are not reliable."
They said that DNA traces found on Kercher's bra clasp - which prosecutors in the first trial linked to Sollecito - could have come from atmospheric contamination and pointed to mistakes in the tests.
"The international procedures for inspection, protocol and collection of evidence were not followed" for both the bra clasp and the knife, they also said.
Drug-dealer Rudy Guede was jailed for 30 years for the sexual assault and murder of Miss Kercher after a separate fast-track trial. His sentence was reduced to 16 years on appeal.
On Monday, Guede testified at the appeal trial of Knox and Sollecito, claiming they were the only ones to blame for the killing.
However, convicted child killer Mario Alessi previously told the court of a prison confession made to him by Guede.
He claimed that Guede, from the Ivory Coast, had confided to him that Knox and Sollecito were innocent.
The two experts are due to present their review in court next month.