Cyprus: UN hosts new unity talks in Geneva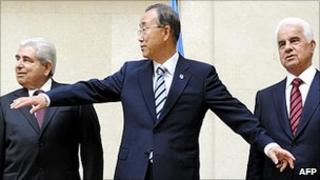 The leaders of divided Cyprus are meeting UN Secretary General Ban Ki-moon in Geneva in a new effort to reach a deal on reunification.
Correspondents say the UN wants both sides to resolve the outstanding issues in the next 12 months, before Cyprus takes up a steering role in the EU.
The Greek and Turkish Cypriots remain divided over property, the right of return of the displaced, and security.
A UN peacekeeping force has been deployed on the island since 1964.
The Republic of Cyprus joined the EU in 2004, despite the frozen conflict with the breakaway Turkish-controlled north of Cyprus. It will assume the EU's rotating presidency in mid-2012.
The continuing dispute is a major obstacle blocking Turkey's efforts to join the EU.
It is the third round of three-way talks that Mr Ban has held with Cyprus President Demetris Christofias and Turkish Cypriot leader Dervis Eroglu.
Recent opinion polls show many Cypriots remain very uneasy about plans for reunification, the BBC's Imogen Foulkes reports from Geneva.
She says there are already signs the two leaders themselves do not expect much progress on Thursday - after the talks, they have each scheduled their own, separate, press conferences.
Cyprus has been divided since 1974, when Turkish forces invaded the island in response to a Greek-led coup apparently aimed at making it part of Greece.