Juan Carlos: Basque arrested over Spain 'murder plot'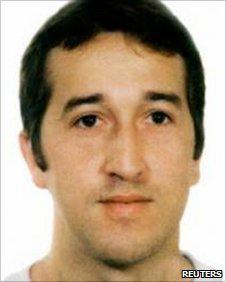 A Spanish man has been arrested in the UK in connection with the attempted assassination of the king of Spain.
Eneko Gogeaskoetxea Arronategui - believed to be a member of the Basque separatist group Eta - was captured by police in Cambridge.
The 44-year-old was later remanded in custody following an extradition hearing held before City of Westminster magistrates.
Spain believes he fled after trying to kill King Juan Carlos in October 1997.
Mr Arronategui was arrested under a European arrest warrant in a raid at about 0900 local time (0800 GMT) on Thursday. British police said searches were conducted at a residential address and two business addresses in Cambridge.
Neighbour Alexander Stewart said: "I see him nearly every morning and he's very polite - he keeps very much to himself most of the time."
Mr Arronategui is suspected of "participation in an armed gang, attempted assassination of the king, terrorism resulting in death, possession of weapons, theft and forgery", according to the warrant.
The Spanish interior ministry said he had been a member of an Eta group which plotted to kill Spain's King Juan Carlos by throwing grenades at him as he attended the opening of the Guggenheim Museum in Bilbao.
The plot was uncovered a day before the king arrived and no explosives were detonated.
Interior Minister Alfredo Perez Rubalcaba noted that another Eta suspect had been arrested in France on Wednesday, and said the new detention highlighted the weakness of the group.
"It does not matter where they go. There will always be a police officer - it does not matter what nationality," he told reporters.
Eta's violent campaign for independence for the Basque region has cost more than 800 lives since 1968.
The group has also been linked to several other assassination plots on Juan Carlos, who became king in 1975.
A crackdown by the Spanish authorities has led to hundreds of arrests, including most of the group's senior commanders. This is believed to have seriously weakened the group.
Eta has announced ceasefires several times but then gone on to break them by carrying out attacks.
The latest ceasefire was announced in 2010 but was dismissed by Prime Minister Jose Luis Rodriguez Zapatero, who said it did not go far enough.