Russia neo-Nazis jailed for life over 27 race murders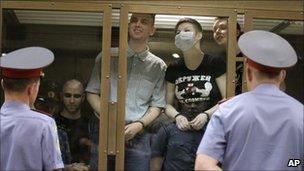 A court in Moscow has sentenced five members of a neo-Nazi gang to life in prison for the racially motivated murders of 27 people.
Several other members of the outlawed Nationalist Socialist Society were also found guilty - including one woman - and given jail terms of up to 23 years.
The gang targeted Muslims and dark-skinned migrants during 2007-8.
The defendants in the dock joked with each other, taunted the judge and attempted Nazi salutes in handcuffs.
As the verdict was read out, they shouted: "Our conscience is above your laws, we'll be back", Russia's Interfax news agency reported.
The 18-month trial heard that the gang had hunted down people in Moscow who were or appeared to be from central and south-east Asia, Africa or the Caucasus region, and brutally attacked them.
Ringleader Lev Molotkov, who pleaded not guilty, was described by presiding judge Nikolai Tkachuk as "an extraordinary danger to Russian society".
In total, 12 people were found guilty of murder, inciting racial hatred, attempting terrorism and participating in extremism. At least one attack was filmed and posted on the internet.
Molotkov and four others were sentenced to life, while a young woman, Vasilisa Kovolyova, was among those jailed for for between 10 and 23 years.
Another gang member who had turned himself in to police and co-operated with the investigation was given an eight-year suspended sentence.
Defence lawyers argued their clients had been brainwashed by neo-Nazi ideology and coerced into their crimes. Others said they had been tortured or forced to give confessions.
Lawyer Maria Malakhovskaya said they would appeal against the verdict.
But Alexander Kolodkin, whose son was stabbed to death by the gang in 2008, said their defence was irrelevant.
"Irrespective of whether they were fooled or mentally lost, they are evil killers who will never get back to a normal life," he said, adding that they should be kept in isolation.
Russia has seen a surge of racially motivated attacks in recent years in Moscow and other large cities.
The authorities have responded by banning groups like the Nationalist Socialist Society, but rights group have accused officials of being too lenient on racist crimes.