Russia arrests two after Volga boat sinking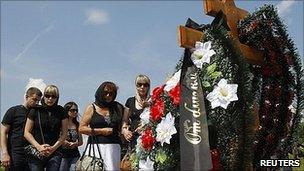 Russian police have arrested two officials following the sinking of a tourist boat on the Volga in which more than 100 people died.
Both the director of the company that rented the boat and a ship registrar who certified it have been detained, prosecutors said.
Officials have said the boat was overloaded and in poor condition when it sank in the Tatarstan region.
Meanwhile divers have widened their search for bodies of the victims.
So far 104 bodies have been found including those of 23 children.
The 80m (260ft) Bulgaria - a double-decker river cruiser built in 1955 - listed during a thunderstorm on Sunday and sank in minutes, trapping many passengers inside.
About 80 people were rescued.
Officials said the boat was designed for 140 passengers and crew but it had been carrying 208 people. It also lacked the correct licences and one of its engines was not working, prosecutors said.
On Wednesday the head of the Argorechtur company that leased the boat and a river transport inspector were arrested, Itar-Tass news agency reported.
They are charged with providing services that fail to reach safety standards and could be jailed for up to 10 years if convicted.
At Kazan near the site of the disaster, the funeral was held for the boat's captain, Alexander Ostrovsky.
"I am sure he simply did his civil duty, heroically, up to the bitter end," said his former wife, Tatyana.
Deputy Emergencies Minister Alexander Chupriyan said divers would continue working "until we are sure that all the bodies have been found".
"The divers are working in absolutely extreme conditions," he added.
Russian media have been scathing in their accounts of the tragedy.
The Vedomosti business daily said the accident "shows the logic of neglecting safety in the name of profit".
An editorial in the Komsomolskaya Pravda read: "The owners extracted profit while turning a blind eye to safety rules. People die... because of their tacit acceptance that things are not done the right way."
Deputy Prime Minister Sergei Ivanov said the sinking was "lawlessness and a crime" and the ship had a "whole bunch of violations", Interfax news agency reported.