Austrian anthem to give daughters a mention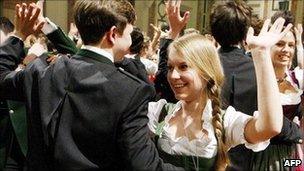 Austria plans to recognise its "great daughters" in the national anthem, alongside its "great sons".
The main parties in the Austrian parliament have agreed that part of the anthem's text will be changed. The new version may be ready by January.
The phrase "Home of great sons, you are" is likely to be changed to "Home of great daughters, great sons".
Women politicians from the three main parties said experts would be consulted to settle on a final version.
The anthem's text dates back to 1947. The drive to change it suddenly gained momentum last Friday, when a former women's affairs minister, Maria Rauch-Kallat of the Austrian People's Party (OeVP), put forward a motion to amend the text.
Austrian media say it took several days for male politicians in the conservative OeVP to back Ms Rauch-Kallat's motion.
At a joint news conference on Wednesday the spokeswomen of the OeVP, the Social Democrats (SPOe) and the Greens announced that the change would go ahead.
The move is expected to get the official green light in a parliamentary vote in the autumn.
"Of course there are more important women's issues for us to tackle," said Greens spokeswoman Judith Schwentner. "But this concerns a great symbol - our federal anthem."