Uruguay's ex-leader Juan Maria Bordaberry dies aged 83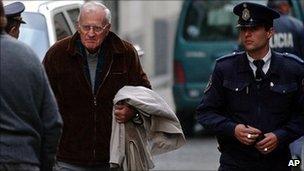 Former Uruguayan President Juan Maria Bordaberry, who was convicted of human rights abuses, has died, his family says.
Bordaberry, 83, was sentenced to 30 years after being found guilty in 2010 over killings and disappearances.
He was elected in 1971 but dissolved Congress two years later under pressure from the country's generals.
He ruled for three years by decree until he was himself ousted by the military who ruled Uruguay until 1985.
Bordaberry had lived in relatively anonymity until 2006 when a push to re-open human rights cases led to his arrest in connection with four political killings during military rule in the 1970s.
He was found guilty and sentenced to 30 years in prison.
He had been serving the sentence at home because of his age and ill health.
After his election, Bordaberry suspended the constitution and banned political parties.
At the time, Uruguay was living through political and economic instability, and left-wing guerrillas known as the Tupamaros were active.
Bordaberry ruled with the help of a national security council before the military moved to remove him in 1976.
Some 200 people were kidnapped and killed by the security forces during the 1973-1985 period of military rule.