Habsburg funeral sparks nostalgia and admiration
By Bethany Bell
BBC News, Pannonhalma, Hungary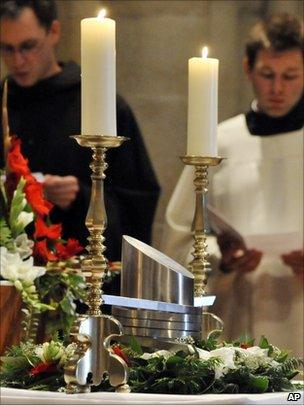 A silver urn stood by the altar in the Benedictine Abbey of Pannonhalma in Hungary.
It was surrounded by a wreath of flowers and leaves in red, white and green - the colours of the Hungarian flag.
It contained the heart of Otto von Habsburg, Archduke of Austria, Crown Prince of Austro-Hungary, Royal Prince of Hungary and Bohemia, of Dalmatia, Croatia, Slavonia, Galicia, Lodomeria and Illyria - to give him just a few of his pre-World War I titles.
The Habsburg family once ruled over a mighty empire, which dominated central Europe for hundreds of years. But Otto, who was endowed with brains and charm, was born just a few years before the monarchy collapsed at the end of WWI.
He and his family were expelled and Otto spent much of his life in exile. But he returned in death to claim something of his dual heritage.
On Saturday, his body was buried with his ancestors in the imperial crypt in the Austrian capital Vienna.
That was a favour that was not granted to his own father, Karl, the last Emperor, who abdicated in 1919. When he died four years later, it was out of the question for the newly formed Republic of Austria to allow his body to be returned to Vienna. Karl was buried in exile in Madeira - where his tomb remains to this day.
Otto himself was only allowed back into Austria in the 1960s after a protracted and bitter legal battle.
But the pomp and ceremony at his funeral this week suggest that many Austrians have managed to overcome their reservations about their former crown prince.
While few want to see the return of the monarchy, there is nonetheless nostalgia for the days of Austria's bygone greatness, as well as admiration for Otto von Habsburg's efforts to reunify Europe during and after the Cold War.
On Saturday, the Austro-Hungarian Empire seemed to come back to life as moustachioed men in richly brocaded Habsburg-era uniforms marched behind his coffin in solemn procession through Vienna.
At the requiem mass in St Stephen's Cathedral, the Kaiser Hymne, the old imperial anthem by Joseph Haydn, was played.
The current President of Austria, Heinz Fischer, pointedly did not sing along.
Other ancient traditions were observed.
The Habsburgs often have their hearts buried separately from their embalmed bodies. Many of them are kept in copper urns in Vienna's Augustiner Church, a few streets away from the imperial crypt in the Cappuchin Church.
But Otto chose to have his heart buried in Hungary, in the Benedictine abbey where he was sent to learn Hungarian as a boy, when he was still Crown Prince.
Later, monks from the abbey followed him into exile to teach him Hungarian literature.
He returned here in the late 1980s as the first cracks appeared in the Iron Curtain.
Working with the pan-European movement, he had long campaigned against communism and worked for the re-unification of Europe.
At the service in Hungary, which was attended by Protestant and Catholic bishops and a rabbi, the monks promised to look after his heart and pray for his soul.
His two sons, Karl and Georg, carried the urn down to the crypt to be buried under a marble slab.
And one of the monks, Father Albin, had another reason for why Otto von Habsburg may have chosen Pannonhalma as a final resting place for his heart.
"Hungary never expelled him personally, and he wanted to be buried in a country which still loves him," he said.
Related Internet Links
The BBC is not responsible for the content of external sites.