Cyprus foreign minister 'to quit over navy base blast'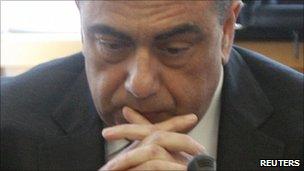 Cypriot Foreign Minister Markos Kyprianou has said he intends to resign over an explosion at a naval base that killed 13 people.
There was no immediate word on whether President Dimitris Christofias had accepted Mr Kyprianou's resignation.
Dozens were injured when a cache of seized Iranian munitions blew up last week, in the Mediterranean island's worst peacetime military accident.
Cyprus's defence minister and military chief have already stepped down.
Mr Kyprianou told reporters earlier on Monday that he would ask President Christofias to accept his resignation "not because there is a sense of guilt, but for reasons of political sensitivity".
Government spokesman Stefanos Stefanou confirmed that Mr Kyprianou had discussed his intention to quit with the president.
"I hear the public, and I want to contribute to the restoration of trust in the political system at such a crucial time for Cyprus," Mr Kyprianou said.
The government has been plunged into chaos since the 11 July blast, which prompted thousands of Greek Cypriots to take to the streets in anger blaming the incident on government negligence.
The dead included the head of the Greek Cypriot navy and six firefighters.
About 100 containers - most packed with gunpowder - had been stacked in an open field at the navy base since 2009.
They had been seized from a ship sailing from Iran to Syria in violation of UN sanctions against Tehran.
The explosion also badly damaged Cyprus's largest power station leading to rolling power cuts across the island.