EU presses Denmark over new border controls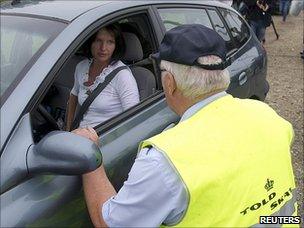 The European Commission says it is not convinced that Denmark's reimposition of border controls is justified.
The Commission, which monitors compliance with EU treaties, suspects that Denmark's move violates the Schengen Agreement on open borders.
Denmark must "demonstrate factually that the gravity of the situation justifies putting in place controls" on its borders, the Commission said.
Fifty extra customs officers are now at entry points from Germany and Sweden.
The Danish government said the deployment on 5 July would help fight organised crime and people trafficking.
The Commission sent a team to assess the Danish measures and their conclusion was that "the risk assessment required to justify the controls was not sufficient and there were no clear instructions to border control officers on how to carry out controls".
The Commissioner for Home Affairs, Cecilia Malmstroem, called for "a strict monitoring system based on regular information from the Danish authorities, not excluding further visits if necessary".
She said the Commission "will not hesitate to use all tools at its disposal to guarantee free movement of goods, services and persons and the full respect of EU legislation''.
Denmark's centre-right coalition stepped up border controls after pressure from its populist ally, the right-wing Danish People's Party (DPP), to do so.
Politicians in Germany and elsewhere have questioned the Danish move, pointing out Denmark's obligations under the 1995 Schengen Agreement, which abolished internal borders, enabling passport-free movement across most of western Europe.
Before the Danish move both France and Italy also raised new questions about Schengen, as an influx of illegal migrants from North Africa fuelled demands for extra passport checks.
Related Internet Links
The BBC is not responsible for the content of external sites.